SEWELL PREMIUM GRADE HDMI HIGH SPEED
Cable Products Sewell Premium Grade HDMI High Speed with Ethernet Cable, Braided Jacket, Gold Plated, 3 (SW-32000-03)
Item#:  9780134  | Model#: SW-32000-03
Price:

$27

.

99
Shipping:

Temporarily out of stock. Order today and we'll deliver when available. (Details)
SEWELL PREMIUM GRADE HDMI HIGH SPEED Product Details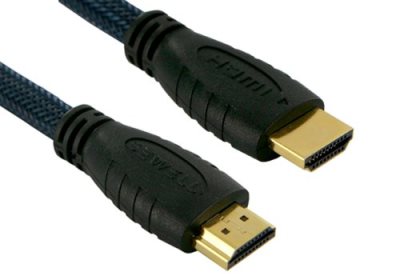 Premium Grade HDMI Cable, High Speed with Ethernet, Male to Male, 4K, 1080p, 3D, HDMI 2.0, UHD, Shielded, 3-Feet
28 AWG Conductors
High Speed (v2.0): 18 Gbit/s
Deep color, 3D, Auto Audio Sync All Supported
All Resolutions up to 4K (including 720p and 1080p) Supported
Triple Shielding for Frequencies of Electromagnetic Interference
Get the ultimate in ultra-high quality materials and precision assembly with the Premium Grade Sewell HDMI cable. Sewell's Premium Grade HDMI cable includes thicker conductor gauges, added shielding, and multiple layers of protection for the conductors inside for all varieties of cable stress you may encounter. HDMI has released new specs increasing the available features offered by HDMI devices. One of the biggest improvements is an increased bandwidth (18Gbps). This new bandwidth allows HDMI to carry much more vital information. Now HDMI can support 4k resolutions at 60 fps and Deep Color. It also supports 32 channel audio and the 21:9 aspect ratio, and several other important updates. Maximum attention to detail is taken for selecting the highest grade copper containing virtually zero oxygen on a microscopic level. When bubbles of oxygen are left in the copper, they expand over time and cause "oxidation", the leading cause for conductor degradation.

Conductors in Sewell's Premium Grade cable feature a thicker gauge the standard as well. Triple Shield Each premium grade HDMI cable offers three lines of defense against electromagnetic interference (EMI) which is the leading cause for signal problems. One layer of shielding around the pairs of cable that transmit the audio and video signals sits below a broader foil shield that wraps all conductors. A third layer of braided shielding defends the signal from different types of interference. The foil shields block and dissipate high frequency interference while the braided shielding stops lower frequencies of interference. Gold is one of the best conductors known to man, and this cable features a nice and thick 3 micron plating of 24K gold. This ensures maximum signal conductivity where the most problems could occur at the point of connection to your equipment. The nylon jacket reinforces the entire cable from extreme bends where standard HDMI cables' PVC jackets would kink down on the conductors.
Recommended Items
Manufactured by: Cable Products
UPC No:
Mfg Part No: SW-32000-03

Shipping Weight: 0.5000 pound(s)
Click here for full warranty and support information
Cable Products logos are registered trademarks of Cable Products. All others trademarks and copyrights mentioned herein are the property of their respective owners.