Blackmagic Design DaVinci Resolve 11 Editing and
Blackmagic Design DaVinci Resolve 11 Editing and Color Correction (DV/RESSOFT)
Item#:  8198645  | Model#: DV/RESSOFT
List Price:

$995.00

Instant Savings:

- $49.75  (5%)

Price:

$945

.

25
Shipping:

Temporarily out of stock. Order today and we'll deliver when available. (Details)
Blackmagic Design DaVinci Resolve 11 Editing and Product Details
DaVinci Resolve 11
Editing and Color Correction Software
Compared to the previous version, the Blackmagic Design DaVinci Resolve 11 Editing and Color Correction Software greatly increases non-linear editing capability, providing a one-stop on-set, post production, and finishing solution. In addition, it features improved support for multi-GPU systems with the ability to benefit from up to three GPUs dedicated to parallel processing on one machine, and adds cluster support for extreme real-time performance when using the Linux version (Linux support requires the separately available Blackmagic Design DaVinci Resolve Control Surface, which itself includes a dongle).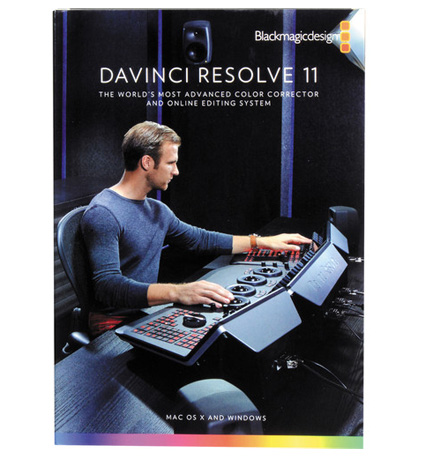 DaVinci Resolve 11 supports a wide range of acquisition formats from highly-compressed smartphone footage up to camera RAW formats in 4K, 5K, and higher resolutions. Supported formats can be edited and graded natively or proxies can be created for lower-powered machines or use in third-party software, such as Final Cut Pro X, Premiere Pro, and Media Composer. Either way, the original source material is used when rendering the final output ensuring no generational quality loss. Export to multiple formats at once is possible, with settings for Web, tape, and high-quality broadcast to choose from. With a separately available EasyDCP license you can even create cinema-ready DCP package files.
DaVinci Resolve is a dongle licensed application and can be installed on Windows or OS X without additional hardware. It is recommended that you download the latest version of the full (not Lite) version of Resolve from the Blackmagic Design website. The dongle will need to be connected to the computer whenever using Resolve - if the dongle is accidentally removed during editing you will be given a chance to save your project before the program automatically quits. Project files are fully interchangeable between Resolve and Resolve Lite, however both applications cannot be simultaneously installed on one computer. Please uninstall any copies of Resolve Lite before installing Resolve. Hardware requirements vary depending on your application, however you will need as a minimum a dedicated graphics card connected via PCI-Express with OpenCL support - for details please refer to the Configuration Guide appropriate to your system found under the support section on the Blackmagic Design website.
What's New for Version 11
Redesigned Editing Workspace
A new bin designed to make it easier to organize different versions of a project
Updated edit index with filtering to show flags, trough edits, and off-line clips
Support for third-party OpenFX transitions and generators
The ability to split audio and video in/out points in the source and timeline viewers while editing
New timeline tools, including asymmetric trimming, JKL trimming on playback, added trim start and trim end commands, and more
A new "option-U" shortcut to toggle between audio and video selections
New menu for adding and manipulating transitions
Ability to open a curve editor from the timeline - proving a supplement to keyframes that simplifies ease-in/ease-out effects
New and Enhanced Color Correction Tools
Integrated title editor with multiple stylistic adjustments
Camera RAW Palate to help when grading HDR media
Color Match Palate automatically color corrects a shot that has a color test chart placed in it
Three levels of grading per clip in an assigned group - this simplifies applying a primary color correction to an entire scene at once
Clip mode allows you to make adjustments that are limited to a single clip on top of any group level corrections
Use new Clone Tool to back up camera cards, drive volumes, and more to multiple destinations
New multi-user collaborative workflow - other users are automatically notified for review whenever any user makes a change
Benefits Over Resolve Lite
Support for more than 1 + 1 (1 + 2 on 2013 and later MacPro) graphics cards
Access Motion Effects palette with noise reduction and motion blur tools
Support for 3D content
The ability to render out at higher than UHD (3840 x 2160) resolution
Support for multi-user collaboration
Support for remote grading
Real-time timeline Power Mastering
The ability to capture or output to tape
Support for the DaVinci Resolve Control Surface
Finish and Deliver to Most Formats
Whether you're creating a master for TV release, a digital cinema package for theatrical distribution or finishing for delivery over the internet, DaVinci Resolve includes powerful delivery options for versioning, finishing, and delivery at virtually any resolution. You can export your media in a variety of formats with optional burn-ins, output EXR or DPX files for visual effects work and uncompressed 10-bit or ProRes files for editing in applications like Final Cut Pro X. DaVinci Resolve works from your camera originals so you always get the highest quality output.
YRGB 32-bit Float Processing
All image processing is handled at 32-bit floating point using the YRGB color space - other grading applications typically use RGB or YUV color space. Adding the separate luminace (Y) channel allows you to adjust the luminance gain of your video without rebalancing the color of your whites, midtones, or blacks.
Wide Third-Party Interoperability
Move projects between your favorite NLE and VFX software. DaVinci Resolve can share sequences and round trip projects with Apple Final Cut Pro X, Avid Media Composer, Adobe Premiere Pro CC, and more. That means you can edit your project on any system, then using XML, AAF or EDL's, you can link back to your full quality camera RAW files and finish in greater bit depth with DaVinci Resolve. You can also drop VFX shots from After Effects CC and Nuke directly into the timeline for final grading and finishing.
Workflow
Grading Live On Set
Grade real time video direct from the camera - with the full creative power of primaries, secondaries, power windows, and more. Resolve Live can help you confirm lighting and camera angles on set and lets you save looks that can be applied to you camera RAW files during grading. That means you save time in production and in post because you can preview exactly how your shots are going to look when finished.
Collaborative Editing and Grading
DaVinci Resolve 11 lets an editor and multiple colorists on different workstations share the same timeline and work in tandem as they complete shots. A colorist could be pulling a key or tracking windows while another colorist fine tunes grades that are immediately updated as the editor edits.
Editing and Grading for Photographers
New for version 11, DaVinci Resolve has RAW image and color grading controls that are familiar to photographers for an easier transition to video work. You can adjust images quickly and precisely or even use a color chart to automatically balance your footage.
Remote Grading
Using a regular internet connection, a colorist anywhere in the world can remotely control and grade footage anywhere else. With remote grading, a colorist in London or LA can collaborate and show his work to a Director in New York, Tokyo or anywhere else at full quality, and in real-time.
Real Time 3D Stereoscopic Grading and Editing
When you are working on a 3D stereoscopic project it's important to be able to match the grade on both eyes and bring everything into exact alignment. DaVinci Resolve will edit, grade, and display 3D stereoscopic timelines in real time. You can perform side-by-side, line-by-line, checkerboard, and anaglyph comparison between eyes and use automatic 3D alignment tools to remove slight color or image alignment errors between cameras on 3D rigs. Adjust convergence pan, tilt, and zoom and immediately see the results. You can even begin with a 2D timeline and copy all the grades to the other eye ready for trimming.
Proxy Support
Manage media, sync audio, and convert high resolution RAW footage into ProRes or DNxHD proxy files for use in Final Cut Pro X, Media Composer or Adobe Premiere Pro CC. The advanced media management tools can track the relationship between proxies and your original footage for finishing. After editing DaVinci Resolve will automatically reconnect the edited sequence to the original camera RAW files.
Color Correction Tools
Unlimited Grades with Nodes
DaVinci Resolve uses node based processing where each node can have color correction, power windows and effects. Nodes are similar to layers, but more powerful because you can join unlimited nodes sequentially or in parallel. That means you can combine grades, effects, mixers, keys, and even plug-ins in any order to create limitless color effects and unique looks.
Grading from RAW Files
With the RAW palette - new for version 11 - you get high quality debayer with highlight recovery, white balance, color space, and gamma controls, along with adjustments for fine tuning exposure, color temperature, tint, sharpness, and more so that you have virtually unlimited creative control over RAW images. Now you can take advantage of the full wide dynamic range of RAW images and pull the maximum detail out of the highlights, shadows, and mid tones in real time.
Primary Color Correction
Adjust the overall look of a clip or group with adjustments for lift, gamma, and gain with the control and precision of DaVinci's 32-bit, YRGB color space. Primary controls include shadows, midtones, and highlight log controls with offset.
Secondary Color Correction
Target specific colors or areas of the image with DaVinci's precision secondary color correctors. Precise HSL, RGB color, and LUM qualification lets you target specific areas of the image. And with DaVinci Resolve 11's updated keyer controls you always get clean edges, so no matter how complex the grade is.
Automatic Color Match
Whether your footage was shot on film, video or is RAW, DaVinci Resolve's new Color Match can automatically give you a primary base grade by analyzing shots containing standard color charts (please refer to the drop down menu with Resolve for a list of currently supported charts). Color Match lets you set the source gamma, target gamma, and target color space for the chart used in your shot. Simply use the chip grid to identify the color chip chart and Resolve will automatically balance the images, even if they were shot on different cameras, under different lighting conditions, and with different color temperatures.
Power Windows
Power Windows are a solution developed for DaVinci Resolve that allows you to isolate specific areas in the image. You can create an unlimited number of Power Windows using circular, linear, gradient, and PowerCurve shapes and then combine them using matte and mask controls. Windows can automatically follow objects in the image using Resolve's built in multi point tracker.
Image Stabilization and Tracking
DaVinci Resolve features a 3D tracker for locking Power Windows to on screen objects. Tracking is automatic so you don't have to waste time generating keyframes. You can also use the tracker to stabilize images and clean up shots that would otherwise be unusable.
Digital Reframing
DaVinci Resolve features sub-pixel processing so when you reframe, zoom, or even rotate a shot, image quality is retained. This lets you fix poorly framed shots in full quality.
Custom Curves and Soft Clip
For subtle image control, Custom Curves let you define a specific curve that's applied for your corrections. Then add high and low soft clip processing with high and low softness for that "magical look". These can be ganged for all channels or set per channel. Custom Curves also support YSFX luminance and saturation effects.
HSL Curve Grading
Curve grading lets you adjust hue, saturation, or luminance on a curve graph with a workflow that's similar to grading with popular editing software. You can pick colors from the image and even use bezier handles for precise curve control.
OpenFX Plug-in Support
Add OpenFX plug-ins from developers like Red Giant, Sapphire, and more - or use the built-in gaussian blurs, sharpen, and mist on unlimited nodes in real time. DaVinci Resolve's image sharpening and professional mist effects give you even finer control over the atmosphere and texture of your images.
Real-Time Noise Reduction
Using today's powerful GPUs, you can take advantage of DaVinci Resolve's spatial and temporal noise reduction. DaVinci Resolve's advanced noise reduction can clean up material shot on film as well as remove noise from images shot on digital cameras. You can even apply noise reduction within Power Windows to only treat part of a shot.
Gallery Stills and Grades
When you're grading it's you may want to keep stills from earlier in the job or even other projects so you can compare shots to keep your grades consistent. DaVinci Resolve's Gallery lets you save and share stills and also copy color grades from your work. Grades can be copied to individual clips, to all clips from the same reel, or to any selected group of clips.
Move Grades Between Systems
DaVinci Resolve can grade and finish projects that were started in Final Cut Pro X, Avid Media Composer, Adobe Premiere Pro CC, and more. DaVinci Resolve also supports ASC color decision lists, including full slope, offset, power, and saturation metadata. As all CDL events are synchronized with EDL events you can import basic grading decisions made on other systems for final grading and delivery from within Resolve.
Non-linear Editing
Comprehensive Editing Tools
DaVinci Resolve editing features full multi track support with tools designed to be familiar to users of other NLEs. There are keyboard shortcuts and toolbar buttons to mark edit points, insert tracks, delete clips, and more. You can also simply drop your clips directly into the timeline or drag clips over the edit pop up window to quickly perform insert, overwrite, replace, fit to fill, superimpose, 3-point, add, and swap edits.
Context Sensitive Trimming
Depending on where you place the cursor, you can ripple, roll, slip, slide, extend or shorten edits without changing tools. That means you can spend more time fine tuning edits instead of switching tools. Trim clips on multiple tracks simultaneously in the same direction or asymmetrically.
Mixed Format Timeline
Mix and match different formats and resolution media in the timeline all with real time sizing and playback. You can edit wide dynamic range camera RAW files or one of many camera or file codecs without having to worry about time spent ingesting or transcoding footage or losing quality while making proxies.
Creative Transitions
You get multiple built-in real-time transitions, including cross and additive dissolves, wipes, dip to color, and more. Transitions can be aligned on the center of the edit, or at the start or end of the edit. You can even adjust transition duration dynamically and set ease in and out as you need. Transitions from FCP X and other editing software come in via imported XML and AAF's, plus you can use your favorite OpenFX plug-ins.
Optical Flow Retiming
Changing speeds can cause undesirable artifacts like stepping shots on slow downs due to "missing frames" or that jump frame you see on speed ups. DaVinci Resolve features nearest, frame blend, and an "Optical Flow" image processing engine that uses advanced algorithms to create in-between frames in real time.
Custom Titles
DaVinci Resolve features title tools for creating lower thirds, scrolling text, and title cards with drop shadows, backgrounds, borders and more. Set your text position, tracking, and line spacing, or adjust the stroke color and opacity to create professional looking titles. There are composite modes, title transforms, cropping tools and you can even import titles from other NLE's. You can add high quality anti-aliased titles to your project in nearly any resolution, even 4K.
Keyframe Control
A keyframe editor is integrated into the edit timeline so that you can see your keyframe positions directly under each clip and in context with your edit. New for 11, you can animate real-time effects with keyframe precision and use the spline curve editor to modify individual parameters or groups of parameters.
Audio Editing and Mixing
Whether your audio files are mono, stereo, 5.1 surround, or more, DaVinci Resolve lets you mix your audio with full level control and fade handles for each clip directly in the timeline. You get VU meters with peak and limit indicators for monitoring playback and you can even mute and solo channels while editing. Using the built-in mixer you can mix multi track audio sources, adjust levels, pan, and set output channels for either clips or entire tracks. You can also adjust the audio level of individual audio tracks directly in the timeline.
Media Management Tools
Managing Media
DaVinci Resolve simplifies media management by centralizing key functions on the media page so you can see everything you need all in one place. You can view and playback files, sync sound, and trim longer shots into shorter manageable clips. Media can be organized into bins, and there are also tools to update timecode, apply look up tables (LUTs), change pixel aspect ratio, and more.
Clone and Backup Camera Files
When working with file based cameras and removable media it's critical to have reliable backups of your footage. DaVinci Resolve's new clone tool copies media drives, memory cards and camera packs to multiple simultaneous destinations while you are still on set. All copies are checksum verified, that means you get exact bit for bit digital copies of your source media.
Metadata Tagging and Logging
Resolve stores the metadata from cameras and digital slates with the clips you add to your Media Pool. You can even add your own metadata templates and log data in real-time so you're ready for editing the minute the camera stops rolling. All metadata can be exported to an ALE file that is compatible with Media Composer and select other NLE software.
Organize Media in Bins
DaVinci Resolve lets you create bins to organize your footage, and has advanced search, sort, and sift tools that help you find the shots you need. New for version 11, you can create separate bins for source footage and even VFX shots that you know will update daily. When the next batch of VFX shots are ready, simply update the timeline using the new bins to automatically relink and update to the latest version of the shots.
Audio Syncing
If your production is using sound recorded by a separate audio device than the camera, DaVinci Resolve can manually or automatically sync your footage while you are still on set or back in the edit bay.
Wide Codec Support
DaVinci Resolve supports full unlimited editing and grading of DPX, CIN, EXR, Tiff, QuickTime, ProRes, DNxHD, and MXF files, and more all in real time. You can even work with AVI, JPEG2000, HQ and HQX in MOV, JPEG, TGA, and BMP and multi channel audio.
Camera RAW Support
DaVinci Resolve features native camera file support for formats including, CinemaDNG RAW, ARRI Alexa and Amira. RED One, EPIC, Scarlet, and Dragon R3D files including +5K resolution, monochrome and HDRx images. Also supported are Cineform, Cineform 3D, Phantom RAW, GoPro, Nikon, Canon C300, C500 and 1D, 5D, 7D, and Sony F65, F55, and F5 as well as their XAVC variants.
Content Delivery
DaVinci Resolve's delivery page is used to output your files, whether it's for other systems in your post production pipeline or delivering the final master for broadcast Web publications, or distribution. You can prepare files for round tripping with other NLEs, create EXR or DPX image sequences for visual effects artists, or even make QuickTime movies with watermark burn-ins for review and approval. DaVinci Resolve lets you master video to tape, create files for playback over the Internet, or even author DCP digital cinema package files for theatrical distribution.
Creating Files for Editorial
Use DaVinci Resolve to debayer camera RAW images and export ProRes or DNxHD files to editing in Media Composer, Premiere Pro< Final Cut Pro, and more. Once a sequence is created, the editor can send an XML or AAF file back to DaVinci Resolve, every time the cut changes. DaVinci Resolve tracks the relationship between the editorial files and the camera original RAW masters and instantly conforms the cut back to the highest resolution files available. That means you can edit and grade at the same time.
Creating Files for Visual Effects
You can export EXR or DPX image sequences for visual effects work. VFX shots on large projects are usually being worked on right up to the last minute, as the work in progress sequences come back, you can create a folder for each day's VFX that can be automatically linked to the DaVinci Resolve timeline. That means you'll always have an up to date conform with the most recent VFX plates in place.
Delivering Master Output Files
When your project is finished you can choose to output the program as it appears on the DaVinci Resolve timeline, or you can output individual graded source clips. That means you can export a high quality graded program or individual clips sequentially by reel name and source timecode. DaVinci Resolve can conform projects using the original RAW footage - that means your final output is a first generation graded copy of the camera original files.
Digital Cinema Package (DCP) Files
DaVinci Resolve gives you the a way to go from native camera RAW files all the way to digital cinema production without adding a single generation of quality loss. Creating a Digital Cinema Package requires a license of EasyDCP (available separately) that when entered into DaVinci Resolve opens an extended set of DCP authoring features to generate a formal DCP for theatrical distribution.
Delivering Files for the Web
Export in a wide range of Web-friendly, compressed QuickTime formats including H.264 directly from the delivery page. You can even author multiple files simultaneously from the same timeline at different sizes and resolutions for custom delivery formats.
Flexible Render Queue
For clients requiring multiple versions of a finished project, from full quality masters to low res preview copies, DaVinci Resolve lets you create queues for outputting jobs at a variety of sizes and in dozens of different formats. As each job is completed in the render queue the next is automatically started, so you don't have to wait and manually kick off each render individually. With the right combination of computer, CPU, and GPUs it is possible to output video at up to 150 fps.
Master to Tape
DaVinci Resolve can be used to control professional broadcast decks, like HDCAM-SR, so you can record your finished video master to tape. Using a Blackmagic DeckLink card or UltraStudio Thunderbolt capture and playback solution, you can connect to professional decks using standard RS-422 remote connections for complete deck control and SDI for audio and video.
Control
DaVinci Control Surface Support
The DaVinci Resolve Control Surface (available separately) lets you adjust multiple parameters simultaneously, making grading faster. The control surface features dedicated buttons, knobs and weighted trackballs that give you subtle control for creating the exact look you want. It features 32 soft knobs with automatic LCD labels so won't have to page through multiple menus to find common adjustments. Save and recall grades to memory, load gallery stills, and more at the push of a button while you keep grading at full speed.
Third Part Control Surface Support
In addition to the original DaVinci Control Surface (whic includes a Resolve dongle), Resolve also supports a number of third-party options, including models from Tangent Devices, JLCopper, and more.
Third-Party and Custom Keyboard Shortcuts
You can use the keyboard shortcuts from the NLE you are most comfortable with - including Final Cut Pro, Media Composer, and Premiere - you can use Resolve's own shortcuts, or you can customize your own.
Power and Scalability
DaVinci Resolve requires GPU acceleration to render video, and it is recommend that you have at least one GPU dedicated to Resolve in addition to any GPUs or integrated graphics that the displays are connected to. For Windows and OS X, it will support up to a 3 + 1 configuration, where three cards are dedicated to acceleration and the forth to displays. It will also support a 2 + 1 configuration in compatible 2013 and later MacPros when an external Thunderbolt-attached GPU is used to drive displays. An even greater number of GPUs can be user under certain Linux configuration, and clustering is also supported. Multiple GPUs configurations are essential for real-time work on high-resolution, high bitrate formats such as 4K RAW and beyond (please refer to the Support section of the Blackmagic Design website for exact requirements based on your application).
Storage Area Network Collaboration
When working with multiple people collaborating on large jobs, a storage area network (SAN) is ideal for allowing everyone to access the same media since storage area networks allow a high speed direct connection to shared storage. DaVinci Resolve has all the shared project database and collaborative features to handle large SAN based workflows so that your post production solution can grow at the same time your business does.
Complex Facility Management
The perfect solution for housings dealing with multiple projects - including large products - at once is to use a central equipment room with multiple DaVinci Resolve systems installed and then combine facility design into large client based areas, or a theatrette and then multiple smaller spaces where colorists and editors can quietly work without clients. Then when you have a client arrive, simply patch monitoring into the large rooms so you can transfer jobs between spaces instantly. This helps you make the most of space in a post production facility and removes barriers to growth as your business expands.
Recommended Items
Related Items
Manufactured by: Blackmagic Design
UPC No: 9780321713117
Mfg Part No: DV/RESSOFT

Shipping Weight: 0.1500 pound(s)
Click here for full warranty and support information
Blackmagic Design logos are registered trademarks of Blackmagic Design. All others trademarks and copyrights mentioned herein are the property of their respective owners.