DC Media Network Player Automated Digital Signage
Price:
$62000
with
$6.99 Shipping!
DC Media Network Player Automated Digital Signage Player (DMNP)
Item#:  8785011  | Model#: DMNP
Price:

$620

.

00
$6.99 Shipping
Shipping:

Temporarily out of stock. Order today and we'll deliver when available. (Details)
DC Media Network Player Automated Digital Signage Product Details
DC Media Network Edition
Player
DC Media is Digital Signage made easy, providing a refreshing new and visually appealing approach to electronic signage. With DC Media you can create engaging displays that include scrolling messages, images, video, live TV and over 35 content types. Customize your message by creating your own content using one of our templates and then deploy your content to your Digital Signage network using drag and drop.
No server required
DC Media Network Edition installs on a local computer or a shared virtualized PC.

Great for internal networks
DC Media does not require any external server access, all content is downloaded to the players and played off local disk. Internet Access is only required for RSS and Weather feeds.

No recurring license fees
Licensing is paid once upfront, there are no recurring fees and no hosting fees.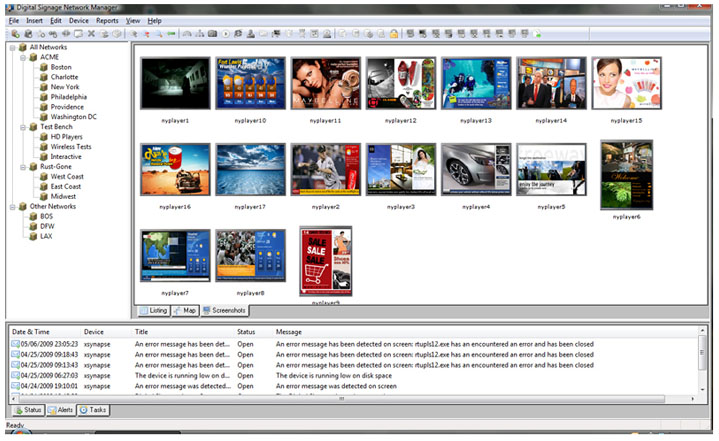 Content Management
Multimedia content is registered with customizable meta-data tags and can be searched on genre, language, title, description and meta-data values. Content can be grouped in categories and previewed before scheduling.
Content Authoring
The DC Media Sign Creator empowers you to create rich media and get your message across, integrate live data and capitalize on every pixel of your visual real estate. Combine images, text, shapes, audio and display effects to create great looking content within minutes. Text and image items can be linked to dynamic data sources including SQL, CSV, XML and DLL files developed using our extension API.
Shaped Layers
Layers can be shaped using either a pre-defined list of layer shapes or a custom layer shape mask.
User Access Control
The Scheduler and the Network Manager can have user access enabled requiring user login using a user name and password. User roles can be defined restricting users to specific activities.
Connectivity
Distribute content and playlists to individual players or groups of players over a LAN, WAN, the Internet or using reliable multicast over Satellite. The Player can also be configured to automatically upload content from a USB drive or DVD.
Audio Priorities
Layers can be assigned audio priorities to ensure that the dominant layer has access to the audio output channel.
Unlimited number of Text Scrollers
Your digital signage display can have as many scrolling messages as you require, scrolling left, right and up.
Background Audio
Zone's containing only audio files can be displayed off-screen to create in-store music and background music solutions.
Plug-in API
DC Media can be extended with DLL files developed using a published API for hardware and software integration.
Flexible Scheduling
Scheduling and Playback
Using the DC Media Scheduler you can schedule by time and day, day of the week, day parting or simply just create a looped list. Schedule a wide range of content formats for playback in any number of layers to fit any display size and orientation. Inside each layer, content can be scheduled to play in a looped list, a list of day partings or according to a date and time selection. Layer Move instructions can be scheduled to create squeeze-backs and picture in picture layers while audio prioritization ensures that multiple content items don't compete for audio playback.
Date and Time Scheduling
Content playback can be looped or scheduled on a date and or time basis. Content expiry is also supported.
Day-parting
Looped playlists can be segmented using custom day partings.
Audience Measurement
DC Media integrates with Intel AIM and Quividi anonymous video analytics software to provide gender and age based content triggering and viewer statistics.
Comprehensive Network Management
The DC Media Digital Signage Network Manager is the most advanced Digital Signage Network Management suite available today, enabling you to reduce downtime and operating costs and provide the highest level of service to your customers and partners. The unique bi-directional nature of DC Media ensures that you can monitor and control your signage in real-time.
Manufactured by: DC Media
Warranty provided by: DC Media
UPC No:
Mfg Part No: DMNP
Box Size: ( Length:0, Width:0, Depth:0)
Shipping Weight: 0.0100 pound(s)
Click here for full warranty and support information
DC Media logos are registered trademarks of DC Media. All others trademarks and copyrights mentioned herein are the property of their respective owners.