Xara 3D Maker (XAR3D7FR)
Item#:  8870870  | Model#: XAR3D7FR
List Price:

$39.99

Instant Savings:

- $1.00  (3%)

Price:

$38

.

99
Shipping:

Temporarily out of stock. Order today and we'll deliver when available. (Details)
Xara 3D Maker (XAR3D7FR) Product Details
Xara 3D Maker 7

3D graphics and animations are the perfect way to add impact to your website or video - and we guarantee there's no easier way to create them than Xara 3D Maker!


Traditional 3D programs are notoriously difficult to use and understand. Not so Xara 3D Maker. Unlike many 3D programs that take an age to learn and understand, Xara 3D Maker has been created to perform one job, and performs that job with style, speed and simplicity.

Xara 3D Maker is solely designed to create the highest quality 3D text and graphics, such as headings, logos, titles and buttons. It's the perfect way to add impact to your web pages, mailshots, movies and presentations (all images are fully anti-aliased for that smooth, professional quality). Xara 3D Maker can also create awesome 3D animations in seconds - GIFs, AVIs and simple Flash movie sequences - and you can even enhance your desktop by saving any animation as a screensaver!




Features
Creating and Importing
Easy Text Headings

Text headings can use any TrueType font installed on your computer. 13 fonts are included in the trial download and there are 64 in the full download. Simply select the font from the drop down menu and type away, you'll create your first heading in seconds!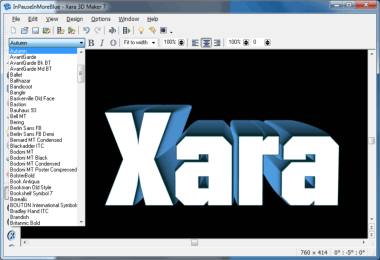 Full Text Controls

There's full control over every aspect of the appearance of the text, including alignment, sub & superscript, line spacing, tracking and kerning values for individual characters or over whole selections.
Character Sets

There's also instant access to full character sets from within the text dialog.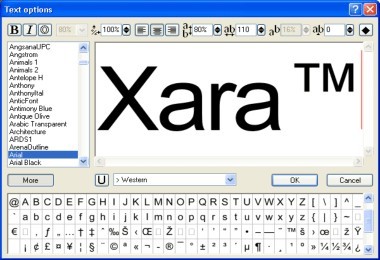 Importing 2D Shapes

But you're not just limited to text headings. You can create non-text headings by importing 2D graphics as Windows metafiles (WMF and EMF) or Xara Xtreme/Xara Designer/Webster files (XAR and WEB) and extruding the outlines.

Borders, Boards & Buttons

An automatic design-making tool instantly adds a border to your text or turns it into a button, board or board with holes at the click of a button.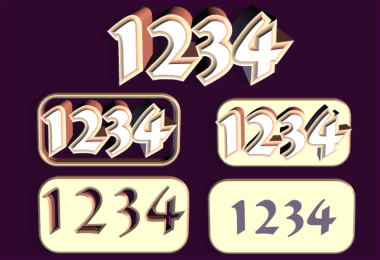 On-screen Quality

Xara 3D Maker offers quality on-screen display, with full anti-aliasing, and real-time solid shading with optional error-diffusion dithering.
New Controls

New in V7: A View Options panel which gives additional advanced control over the X/Y position of an image against its background, allows you to precisely change the angle of rotation and viewpoint, and offers a new wireframe mode which can simplify the display and speed up animation viewing time.
Editing and Applying Special Effects
Easy Extrude

All the contols are full interactive - so for example you can change the 3D extrude depth by simply dragging on the side of the heading!
Real Time Positioning

And you can position the heading in real time around three axes by simply dragging the image on screen.
Individual Character Settings

The many attributes such as bevel, color, fonts, textures, animation and text settings can be applied to individual letters or whole headings.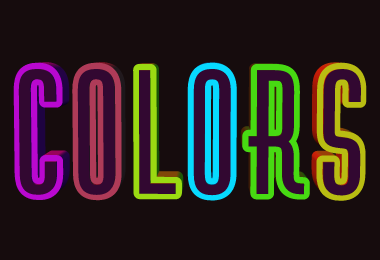 Copying Styles

The Style Picker allows you to easily grab any or all of the settings of an existing image and apply them to another.
Boundless Bevels

There's no less than 33 different bevel types, and the bevel size can be adjusted by simply dragging the bevel edge on screen.
Interactive Light Controls

The lighting is interactive and easy-to-use with three adjustable light arrows which can be dragged around the image on-screen.
Setting Colors & Textures

There are flexible interactive controls over the color and/or texture of every part of the image, and the background. 21 textures are included in the trial download, and over 400 in the full product. You can also import your own GIF or PNG files to use as foreground or background textures. Textures can be scaled, rotated and colored.
More Style Controls

You can make the images matt or shiny. They can also be displayed with front and back faces or you can make them hollow.
Simple Soft Shadows

Images can have a soft-edged shadow, and an intuitive interface allows you to easily alter the shadow blur, transparency and color.
Unlimited Undo

With so many controls to play with it's easy to get carried away. But don't worry - unlimited undo makes experimentation easy!
Animation
Choice of Animation Types
Images can be animated in many different ways, such as Rotate, Fade, Ripple, Pulsate, Step, Fade and Swing, using a simple interface. New in V7: headings can now scroll in and out. You can set the direction and speed, so for example an image could drift in slowly from the and exit quickly right! Absolutely perfect for creating opening titles and closing credits for movies.
Movie & Slideshow Titles
Animations can be exported as AVIs, making them perfect for opening titles and closing credits for movies - especially the new scroll in and out animations. Additionally V7 can export animations with transparent backgrounds in a special MAGIX format, compatible with MAGIX Photostory and MAGIX Movie Edit Pro, so that they can be superimposed as 3D animated captions on movies and slideshows created in these MAGIX products.
Copying Animation Styles
The Animation Picker lets you easily copy the animation settings of one image to another.
Individual Character Settings
You can easily apply different animations to individual characters or sections of text.
Multi-Page Animations
What's more, you can step-through multi-page animations of different images.
Animation Controls
The animation controls are comprehensive. For example you can set the number of frames in a sequence, the rotation direction, the speed, pause and number of loops, all with simply, intuitive controls.
Timeline
An animation time line allows you to step through each frame, pause and export a single frame.
Light & Text Rotation
Lights and text can be rotated separately.
Easy Animated Buttons
Xara 3D Maker is great for creating animated buttons.
Exporting your results
Full Format Support
Xara 3D Maker can save images in all the formats you'll need for use on-screen, in presentations or for movie titles and credits, including JPEG, GIF, BMP, PNG (including full PNG alpha channel), ICO (icon) and CUR (cursor). And for animations you can export as animated GIF, AVI and SWF (vector and bitmap).
Screensavers
Any 3D animation can also be exported as a screensaver.
Background Transparency
The export dialog offers optional background transparency, so your 3D image can blend seamlessly into any page background.
Optimizing For The Web
The export dialog also offers color reduction and palette-optimization for maximum quality with the smallest file size, ideal for web pages.
Image Size
As you would expect there is also complete control over the image size, including a handy Fit To Width feature (with pixel size shown on screen).

System Requirements
Microsoft Windows XP/Vista/7
256MB of RAM
150MB of available hard-disk space
Manufactured by: Xara
UPC No:
Mfg Part No: XAR3D7FR
Box Size: ( Length:0, Width:0, Depth:0)
Shipping Weight: 0.0010 pound(s)
Click here for full warranty and support information
Xara logos are registered trademarks of Xara. All others trademarks and copyrights mentioned herein are the property of their respective owners.