Voyetra Turtle Beach Ear Force XP500 Programmable
Price:
$13299

†
with
$4.99 Shipping!
Voyetra Turtle Beach Ear Force XP500 Programmable Wireless Gaming Headset - (TBS-2190-01R)
Item#:  9418374  | Model#: TBS-2190-01R  | 
List Price:

$269.95

Instant Savings:

- $136.96  (51%)

Price:

$132

.

99

†


$4.99 Shipping
Shipping:

Temporarily out of stock. Order today and we'll deliver when available. (Details)
Voyetra Turtle Beach Ear Force XP500 Programmable Product Details

The Turtle Beach XP500 is a special version of the critically-acclaimed PX5 that's designed specifically for the XBOX 360 and includes an XBA Bluetooth adapter for wireless XBOX Live chat. Just like the PX5, the XP500 delivers the ultimate gaming audio experience with a programmable digital signal processor, Dolby Surround Sound, Bluetooth technology, and XBOX LIVE wireless chat, making it the most technologically advanced headset ever designed for the XBOX 360.
The DSP allows gamers to enhance and personalize the entire gaming audio experience with fully customizable game, chat and mic signals. Custom presets stored in the Turtle Beach XP500 headset can be selected during specific parts of the game to emphasize sounds like footsteps or reloads that might otherwise be difficult to hear. It can even be programmed to disguise your voice or to enhance the voices of online players so you can hear them more clearly during intense parts of the game.
Bluetooth technology lets you chat wirelessly on XBOX LIVE and PSN, answer mobile phone calls and stream music – all while gaming in immersive 360 degree surround sound.
Although optimized for Xbox 360 gaming, the Turtle Beach XP500 is also perfect for watching movies and listening to music, with its impeccable audio performance, large, deep, fabric cushions, soft headband, and twist cup designed for resting the headset on your shoulders. The Turtle Beach XP500 continues the evolution of a new breed of wireless gaming headset that serves as the ultimate "secret weapon" in the arsenal of serious gamers seeking unmatched audio quality, sonic control and a competitive advantage.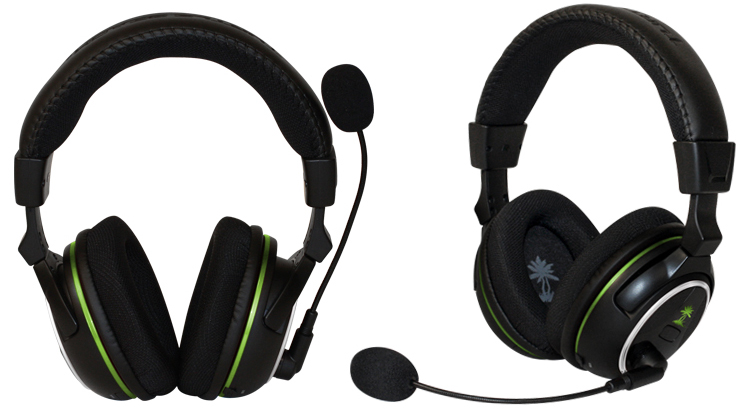 Customizable Presets
Configure up to 18 personalized presets to optimize game, chat and mic audio for different gaming situations.
Dolby 5.1/7.1 Surround Sound
Immersive 360 degree audio lets you hear the direction of every sound, as if you were playing with speakers all around you.
Digital RF Wireless Game Sound
Uncompressed wireless digital audio signal achieves CD-quality game sound that rivals professional-grade wired headphones.
Voice Morphing
Disguise your voice by changing the sound from deep lows to screeching highs.
Dual-Pairing Bluetooth Wireless Chat
Chat wirelessly on XBOX LIVE, answer mobile phone calls or listen to streaming music while gaming.
Dynamic Chat Boost
Chat level increases automatically as the game volume gets louder, so you can always hear the voices of other players.
Microphone Monitoring
Hear your voice in the headset, so you won't have to shout to hear what you're saying.
XBOX LIVE Wireless Chat
Ditch the chat cable and go totally wireless with the included XBA Bluetooth chat adapter.
Sonic Silencers
Enjoy total silence by eliminating ambient noise pickup on your mic and cutting background noise from PSN or XBOX LIVE chat sound.
Sonic Lens + Sound Field Expander
Widen or narrow the sound field to focus on audio cues that are difficult to hear like footsteps sneaking up on you or the click of someone reloading in the distance.
Interactive Voice Prompts
A voice announces critical headphone status conditions, such as battery low, preset numbers, and more.
Ear Guard with Blast Limiter
Limit the intensity of deafening game sounds such as explosions and gunfire to reduce ear fatigue during long gaming sessions.
XBOX 360 and PS3 Compatible
Delivers the ultimate gaming experience with XBOX 360 and PS3 consoles.
THIS PRODUCT IS REFURBISHED
The terms refurbished and recertified are used interchangeable to describe products that manufacturers refurbished, inspected, brought back to original manufacturer's specification then tested and repackaged for sale. Some manufacturers refurbish products themselves and others use a qualified third party refurbisher. Refurbished products represent a great value and we offer them with confidence knowing that every refurbished product was tested at least twice, once when it was first manufactured and again during the refurbishing process. Refurbished products are warranted by either the original manufacturer or the manufacturer's third party refurbisher. Warranty terms applicable to refurbished products may vary; see below for specific warranty information and consider purchasing an extended service plan if you desire even more coverage.
Manufactured by: Voyetra Turtle Beach
Warranty provided by: Voyetra Turtle Beach
UPC No: 731855921904
Mfg Part No: TBS-2190-01R
Box Size: ( Length:10, Width:8, Depth:5)
Shipping Weight: 2.1500 pound(s)
Click here for full warranty and support information
Voyetra Turtle Beach logos are registered trademarks of Voyetra Turtle Beach. All others trademarks and copyrights mentioned herein are the property of their respective owners.