Philips Wireless Portable Speaker - (BT2000A/37)
Item#:  13761213  | Model#: BT2000A/37
Currently Out Of Stock!
You May Consider This Alternative

Philips Wireless Portable Speaker - (BT2000A/37) Product Details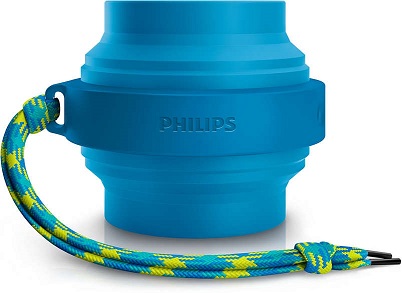 Stretch the speaker in sound and size
Bring music to your adventures with a compact, rugged and easily carried speaker that can be strapped to any bag. Anti-clip technology gives better sound for its size. When you want more just pull it open. Music lasts for half day.
Wireless music streaming via Bluetooth
Bluetooth is a short range wireless communication technology that is both robust and energy-efficient. The technology allows easy wireless connection to iPod/iPhone/iPad or other Bluetooth devices, such as smartphones, tablets or even laptops. So you can enjoy your favorite music, sound from video or game wireless on this speaker easily.
Pull out the speaker for better quality sound
This expandable speaker can be shrunk down for music on the go or opened up for better quality sound, simply grab it at the top and bottom and pull.
Anti-clipping function for loud, distortion free music
Anti-Clipping lets you play music louder and keeps it high quality, even when the battery is low. It accepts a range of input signals, from 300mV to 1000mV and keeps your speakers safe from damage by distortion. This built-in function monitors the musical signal as it goes through the amplifier and keeps peaks within the amplifier's range, preventing the audio distortion caused by clipping without affecting loudness. A portable speaker's ability to reproduce musical peaks decreases along with battery power, yet anti-clipping reduces peaks caused by low battery, keeping music distortion free.
Up to 12 hours music playtime
Play your music loud anytime, anywhere with a built-in rechargeable battery that lasts for up to 12 hours. Listen to all your music without the fuss of tangled power cords and inconvenient searches for electrical outlets, giving you total freedom of movement and a half-day of musical entertainment.
Built-in rechargeable battery for music playback anywhere
Play music out loud - anytime, anywhere. The built-in rechargeable battery lets you enjoy your personal music without the fuss of entangled power cords and the inconvenient search for an electrical outlet. Enjoy great music with the freedom of portability now.
Audio-in for easy connection to almost any electronic device
Carry it anywhere with the by-packed finely knitted strip
In line with the Philips CitiScape Strada's headband series, which was inspired by fashion sneakers and their vividly colored shoelaces, our by-packed strip is made of a vibrant and finely knitted fabric sleeve making it stylish enough to be a fashion accessory.
Manufactured by: Philips
Warranty provided by: Philips
UPC No:
Mfg Part No: BT2000A/37
Box Size: ( Length:0, Width:0, Depth:0)
Shipping Weight: 0.6000 pound(s)
Click here for full warranty and support information
Philips logos are registered trademarks of Philips. All others trademarks and copyrights mentioned herein are the property of their respective owners.