Software MacKiev 2013 World Book Multimedia (10586)
Item#:  9507491  | Model#: 10586
Software MacKiev 2013 World Book Multimedia Product Details
Welcome to the new 2013 World Book!
The World's Favorite Encyclopedia
The wonders of our world are captured in this new edition of World Book. See how a killer tornado is formed. Witness the notorious Berlin Wall coming down. Watch cheetahs running seventy miles an hour. See how ancient Egyptians made mummies. The journey begins here.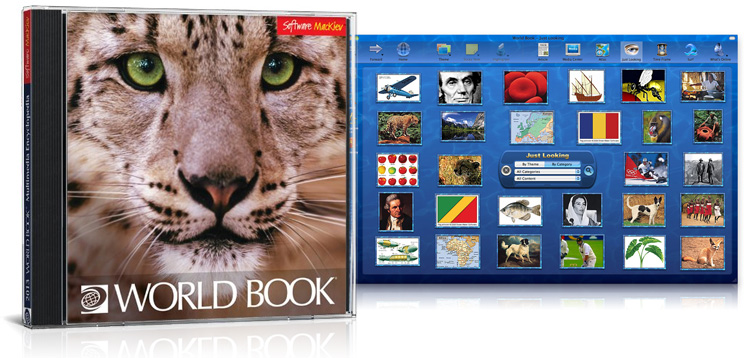 Waterstream Home Screen. Extraordinary photos and video clips from the World Book Media Collection float by like leaves in a stream while matching music selections from Just Listening play in the background.
A picture is worth a thousand words.
The Just Looking area is where you'll find "the good stuff": Pictures of people and places that interest you - from Rock Stars to Explorers, Skyscrapers to Castles - all from the World Book Media Collection.
Just Looking. Browsing with Just Looking is like flipping through the pages of a book, looking at just the pictures and captions. And if anything catches your eye, you are just one click away from the stories of african tribes, rare animals of the deserts, the largest flower on earth, biographies of the famous historical figures, or the records of the best sport achievements.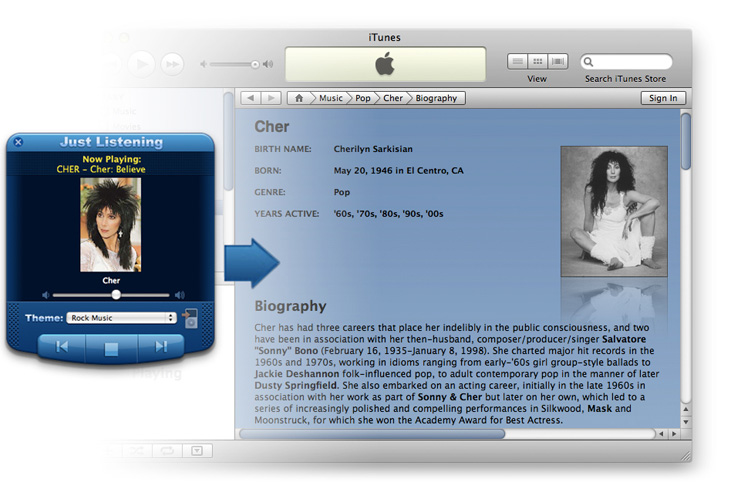 Listen up! Songs, speeches and sonnets.
You can experience true multimedia with coordinated sights and sounds from World Book's music and photo collections. Copenhagen provides an ideal backdrop for the Danish national anthem, as a farmer tending rice fields in Vietnam does for a Vietnamese folk dance.
Warner Rhino Music Collection: Listen to music clips from famous artists in the Just Listening Player and follow links to iTunes to hear more.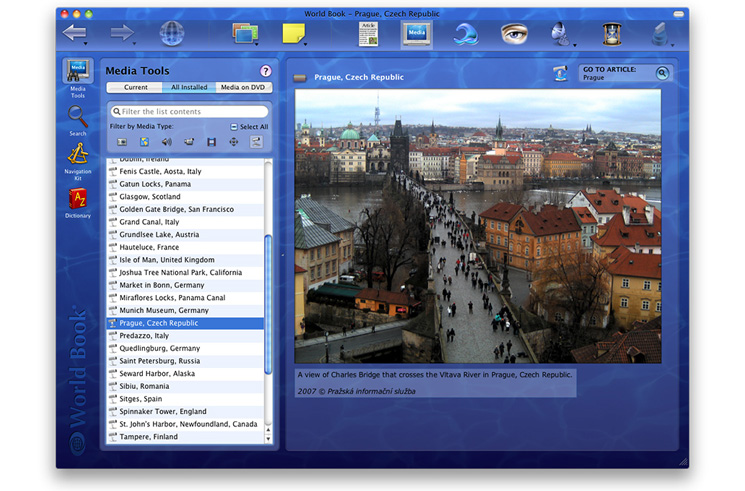 Travel the world from your armchair.
The next best thing to being half way across the world is to travel through the magic of Webcams. We have put together a collection of kid-safe Web cameras from around the world, which we update regularly. From the tranquil beauty of mountain panoramas to the bustle of urban jungles, watch life on our planet unfold before your eyes.
Prague Webcam: This live Webcam shows the historic Charles Bridge in Prague – a bustling tourist attraction in a stunning setting that draws thousands of visitors every day of the year.


Sure there's an article for that.
Every single article from the 22-volume print edition of the 2013 World Book Encyclopedia is included, plus eighty years of archived articles in World Book's online resources. And with automatic Article Updates you'll always be up to date!

New Articles. Every year, more than 4,000 articles are added or updated. For the 2013 edition that includes articles from Arab Spring to Hunger Games, and from Jack Black to Whitney Houston, as well as gorgeous new photographs, video clips, and illustrations.

Surf 5,500 years of Web pages.
In the simulated Web sites of Surf The Ages, even Joan of Arc has her own Web page. Century by Century from 3500 BC, see what the Web might have looked like, from the Black Plague Information Site, to the Leif Eriksen Fan Page.

18th Century Web Site. The 1700's was the "Age of Ideas", and the coffeehouse of that day would have had articles on the thinking that led up to the French Revolution, and how the development of the steam engine changed everything.
Your personal Time Machine.
Find all the media and articles related to a particular era such as the Renaissance or the American Revolution, or find out what happened the day you were born.
American Revolution. Read the stories and view the pictures of generals and soldiers, patriotic organizations, famous battles and campaigns during the 8 revolutionary years leading to the birth of a new nation - the United States.
Playing to learn.
Test and improve your knowledge with our World Book Trivia Challenge game. It covers a wide variety of topics from history and literature to sports and space exploration, allowing you to match your wits against World Book and maybe discover something new along the way.
Trivia Challenge. Do you know what the word Kwanzaa means in Swahili? Or how many voyages Columbus made to the New World? Check your answers with Trivia Challenge, or go to the main encyclopedia to read more!
More than just "moving pictures".
World Book offers hundreds of videos and animations, including historical footage and animal scenes. See and hear volcanoes erupting and bees making honey. Watch the Tacoma Bridge collapse. Witness the attack on Pearl Harbor.
A Kangaroo video. See how a kangaroo hops by moving both of its powerful hind legs together. When hopping, the animal uses its long, muscular tail for balance.
Manufactured by: Software MacKiev
UPC No:
Mfg Part No: 10586
Box Size: ( Length:0, Width:0, Depth:0)
Shipping Weight: 0.2250 pound(s)
Click here for full warranty and support information
Software MacKiev logos are registered trademarks of Software MacKiev. All others trademarks and copyrights mentioned herein are the property of their respective owners.