Starwind Software Enterprise HA - Unlimited with
Starwind Software Enterprise HA - Unlimited with 3 Year (SH-UF-L3)
Item#:  8818620  | Model#: SH-UF-L3
Price:

$17,493

.

00
Shipping:

Temporarily out of stock. Order today and we'll deliver when available. (Details)
Starwind Software Enterprise HA - Unlimited with Product Details

StarWind Enterprise HA Unlimited Edition
StarWind Enterprise HA Unlimited Edition license includes unlimited iSCSI client connections with unlimited storage capacity with Active-Active High Availability. The StarWind Enterprise HA Unlimited Edition license permits installation of two HA clusters with four active-active nodes for the purpose of mirroring or replication from two primary nodes.
StarWind Software develops and sells storage virtualization and iSCSI storage software. StarWind 5.0 is an advanced and powerful iSCSI SAN software that turns any industry-standard x86 or x64 Windows Server into a fully-functional SAN or networked storage.
The more advanced editions of StarWind offer enterprise-level features including:
True Active-Active High Availability - Synchronous Mirroring with Automatic Failover
Failback with Fast Synchronization
CDP & Snapshots
Remote (Asynchronous) Replication over a WAN
Advanced High-Speed Caching
StarWind works over existing Ethernet / IP network and allows users to leverage existing servers and storage resources.
Key Features
Synchronous Data Mirroring: Real-time data replication across a 2 node storage cluster.


High Availability / Automatic Failover: Fault tolerant active-active technology eliminates a single point of failure.


Failback with Fast Synchronization: Failback to an original system after an automatic failover.


Remote / Asynchronous Replication: Replicates your storage to a remote site across a WAN.


Snapshots & Clones: Capture point-in-time snapshots with unlimited rollback points or make full volume copies.


Thin Provisioning: Allocate space dynamically for highly efficient disk utilization.


CDP (Continuous Data Protection): CDP provides a replication mechanism to ensure an RPO (Recovery Point Objective) of zero data loss for applications that require a lower RPO than asynchronous replication can provide.


Data Deduplication: Data Deduplication is a specialized mechanism of data-compression that allows reducing needed storage capacity due to the process of eliminating duplicated data.


Support for iSCSI Standards: IPSec, CHAP, MPIO are all fully supported in StarWind.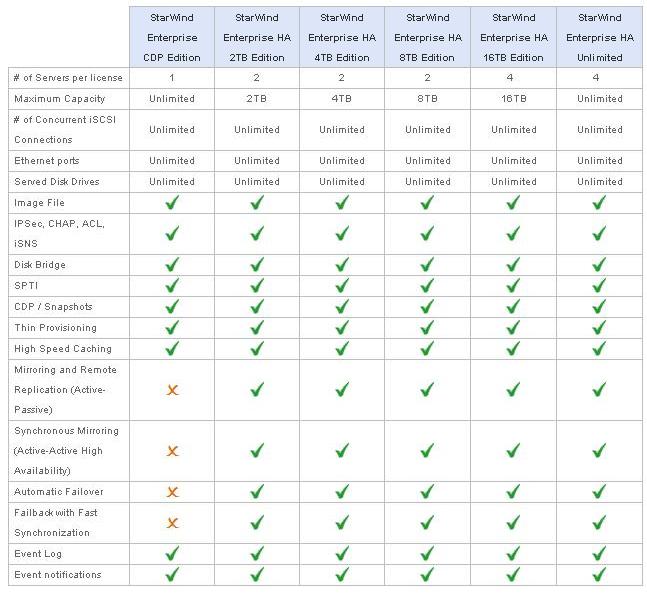 StarWind System Requirements
CPU: Intel Xeon E5620 (or higher), or equivalent AMD Opteron
It is recommended to use Intel Xeon E5620 or equivalent as minimal CPU for StarWind iSCSI SAN servers. To achieve maximum performance from storage solution we recommend you to use Intel Xeon X5650 or equivalent AMD Opteron CPU. Please note that we recommend using CPU with higher amount of cores per socket, even if each of cores has lower frequency than model with lower amount of cores.
The minimum recommended CPU is Intel Xeon E5620 or equivalent. Intel Xeon X5660 or equivalent can be used in order to maximize the performance.
*Important notice: A multi-core CPU with low frequency cores is preferred compared to one with higher core frequency but less cores/socket. E.g. having a 6 core Intel Xeon 5660 with 2.8 GHz per core is better than having a 4 core Intel Xeon 5667 with 3.02 GHz per core.
RAM: 4GB Minimum
4GB is a minimal RAM amount to be installed in the Server running StarWind iSCSI SAN. If implementing StarWind High-Speed caching, an appropriate RAM amount should be installed additionally. The cache-dedicated RAM amount should be equal or higher than one reserved for iSCSI targets caching.
*Important notice: Always reserve 4 GB RAM for Windows internal processes and StarWind iSCSI SAN engine.
Network: 1GbE minimum
Minimal recommended bandwidth is 1GbE. In case of intensive workload one should either implement NIC teaming or scale to 10GbE infrastructure. It is highly recommended to use 9K Jumbo frames capable network equipment for both 1 and 10GbE in order to maximize the SAN environment performance.
The HA synchronization channel has a prerequisite of both NIC & Switch Fault Tolerant link.
HDD: SATA, SAS or SSD drive-based RAID array
The RAID array type depends on your required storage performance. A SAS/SSD based RAID10 should be used in order to get the maximum storage performance with minimal ST. In case of higher security level requirement for storing critical data, RAID 5/RAID6 may be used. Please consult your hardware vendor for more detailed information on available RAID arrays and their performance.
*Please note that using software based RAID arrays in iSCSI SAN environment is not recommended.
Recommended Operating System: Windows Server 2008 R2
StarWind Software recommends using latest Server-class Windows Operating Systems. StarWind supports all Windows Operating Systems from Windows Server 2003 to Windows 2008 R2 family, including Server Core editions and free Microsoft Hyper-V Server. Please note that if you are planning to use Windows Server Core or Hyper-V Server you will not be able to install StarWind Management Console locally on server because of GUI limitations set by OS. In this case StarWind Management console should be installed on any other server/ PC/notebook running any Windows version starting from Windows XP. Please note that for remote management 3261 port should be open on both machines.
Manufactured by: Starwind Software
UPC No:
Mfg Part No: SH-UF-L3
Box Size: ( Length:0, Width:0, Depth:0)
Shipping Weight: 0.0000 pound(s)
Click here for full warranty and support information
Starwind Software logos are registered trademarks of Starwind Software. All others trademarks and copyrights mentioned herein are the property of their respective owners.