Power Production STORYBOARD (PPS100.6)
Power Production STORYBOARD (PPS100.6)
Item#:  7848682  | Model#: PPS100.6
List Price:

$299.99

Instant Savings:

- $50.00  (17%)

Price:

$249

.

99
Shipping:

Temporarily out of stock. Order today and we'll deliver when available. (Details)
Power Production STORYBOARD (PPS100.6) Product Details
StoryBoard QUICK
The industry standard for quick, easy, professional digital storyboards
Create fast, easy, stylish professional storyboards...even if you can't draw!
StoryBoard Quick, the most widely used script-integrated storyboarding software of its kind, bridges the gap from script to screen and is an essential element to any film or video production. Ideal for directors and screenwriters who want to improve the quality of their final product through previsualization and storyboards but don't want to waste time, money, or effort drawing or hiring a storyboard artist. Complete with pre-drawn graphics, StoryBoard Quick offers the fastest and easiest solution to creating amazing storyboards.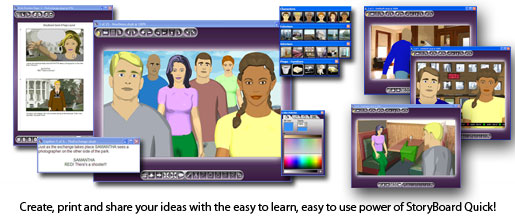 Storyboard software done right! For more than a decade, PowerProduction Software's StoryBoard Quick continues to be the industry standard for quick, easy, professional digital storyboards. Now with even more control and flexibility, StoryBoard Quick helps you become more productive than ever! Organize your ideas, create your shots and make the most of your valuable time with StoryBoard Quick!
Be more creative while saving precious time and money by using StoryBoard Quick's extensive storyboard artwork libraries, easy-to-navigate interface, powerful presentation options and ability to work well with other apps. StoryBoard Quick also comes with a myriad of video tutorials to show you the features and advanced tricks of the software. So get started today on the path to building a better storyboard project!
StoryBoard Quick Features

The Art of Storyboarding.

New cast. New props. New locations. And more of each too! Colorizable, rotatable characters and props. 3D Director's arrows to indicate actor and camera movement. You don't need to be a storyboard artist (but draw tools included!). StoryBoard Quick IS the art of script-integrated storyboarding.

Edit and organize.

StoryBoard Quick's overview gives you the power to see the whole storyboard project in one view. Rearrange your shots, delete frames, insert a missing shot and jump to frames for lightning fast editing. The overview also can display the captions for superior workflow control.

Plays well with others.

Import...almost anything into your storyboards! Take digital photos and drag and drop them right into the storyboard frame. Import your script from any screenwriting program or even text files. Import your scheduling data as well. And, yes, you can even type directly into the caption area and even in the frame itself for the fastest script-integrated storyboards on the planet.

Storyboards in a Flash.

New export to Flash video allows you to play back your storyboards locally or on the internet. Easily export the HTML code along with project sizings so you can play the storyboards back at full frame or optimize for viewing on iPhones and other mobile devices.

It's ok. Be a show off.

Print your great-looking storyboards, or export them as graphic files or a Flash movie. StoryBoard Quick makes it easy to show off your ideas. The new script-integrated page layout gives you script formatting with thumbnail shots and is just one of the many ways to show your ideas.

The right tool.

Zoom in. Zoom out. Rotate around. Draw in the storyboard frame using vector draw tools. Import with alpha channels and crop tools included. New in-frame speech bubble and extra directors arrows. See how to use these features quickly and easily with the video tutorials. Combine them all to create the perfect storyboard project.
StoryBoard Quick v6 Benefits
Why use StoryBoard Quick to create professional digital storyboards? It's easy: StoryBoard Quick is the fastest way to communicate visually in a stylish, professional manner: getting you better end results. Use StoryBoard Quick's wealth of great-looking built-in graphics (or import your own), its pro layout formats and its ability to work well with other programs (from screenwriting/Word to image imports) and you'll be sharing and selling your ideas in no time.

Easy-to-use.
StoryBoard Quick storyboarding software is fast and easy to use...even if you can't draw. Get started right away in creating and presenting. On a deadline? StoryBoard Quick is a must!

Save Time. Save Money.
When you work faster, you save tons of valuable time, and in turn, money on your media, film or video production. Read more about how valuable it is to develop and use storyboards to plan your project!

Creative Freedom.
Produce and deliver professional storyboard layouts for any film production with this feature-packed storyboard application for directors and screenwriters. Read more about how you can stay productive while maintaining creativity for fast script-integrated storyboards!

Design and refine.
When you see your shots next to your script you are better able to refine your story ideas. Read more about how you can make a tighter end project with storyboard software.

Present Your Ideas.
From films and videos to corporate presentations and websites, StoryBoard Quick storyboarding software allows you to SHOW people, not tell them. Read more about how to build a better storyboard project by presenting like the pros.

Get Organized.
Develop the blueprint to a successful project. With the storyboards all laid out in front of you, this graphic organizer makes it easy to plan your media project. Read more about keeping creative control!

Easy-to-Use.

StoryBoard Quick is fast and easy to use, even if you can't draw! StoryBoarding has long been an important planning step between script and screen which only big budget productions could afford. StoryBoard Quick changed all of that by allowing productions of any size to storyboard their projects.

It has an intuitive, easy-to-use interface, loads of pre-drawn props, customizable characters and locations along with the ability to import your script and import your digital photos from just about any format, including all major screenwriting programs. Plus, StoryBoard Quick includes video tutorials which teach the tips and tricks to storyboarding. This is why StoryBoard Quick is the industry leader in digital previsualization!
Experience Creative Freedom.

Produce and deliver professional storyboard layouts with feature-packed StoryBoard Quick. Use the layered storyboard frame to insert images and even import actual digital photos as backgrounds. With loads of pre-drawn images to select from, creating spatial relationships and defining the shot becomes something you actually want to do.

StoryBoard Quick saves you both time and money before you get to the set. Whether you are an expert... or just getting started, StoryBoard Quick helps you create the visual presentations you need in order to communicate your ideas and turn them into reality...and gets your ideas on the screen.
Present your boards.

Produce and deliver professional storyboard layouts. StoryBoard Quick's easy page layout features, graphic manipulation tools, caption storage, and image layering functions make storyboarding faster than ever, all the while allowing you to show people the vision of your project.

Choose from a number of professional page layout options. Select the number of frames per page and horizontal or vertical layout. Choose the new Script-Dominant page layout to keep your script format intact while viewing your storyboards on the same page.

Export your storyboards to Flash so you can play back your storyboards on the internet. Drag and drop the HTML page into any browser for easy viewing.

Zip up the folder and email the storyboard project to share with others. You can even export your storyboards as image files. There's any number of ways to present your vision and communicate your ideas better. Faster.
Recommended Items
Manufactured by: Power Production
UPC No:
Mfg Part No: PPS100.6
Box Size: ( Length:0, Width:0, Depth:0)
Shipping Weight: 1.0000 pound(s)
Click here for full warranty and support information
Power Production logos are registered trademarks of Power Production. All others trademarks and copyrights mentioned herein are the property of their respective owners.