NetSupport DNA Software Pack 5 - 500 - 999
NetSupport DNA Software Pack 5 - 500 - 999 (NSDNAP5500)
Item#:  8863995  | Model#: NSDNAP5500
List Price:

$57.33

Instant Savings:

- $3.34  (6%)

Price:

$53

.

99
Shipping:

Temporarily out of stock. Order today and we'll deliver when available. (Details)
NetSupport DNA Software Pack 5 - 500 - 999 Product Details
NetSupport DNA - Complete Asset Management... Anywhere





Maintaining a complete inventory of your PC's and Servers is essential but nothing new; managing application and internet usage is refreshing; deploying software applications on demand is definitely time saving; but managing any number of separate networks over the internet…now that's the business.
NetSupport DNA is a complete modular solution that delivers Hardware and Software inventory and License Management. It features detailed and fully customisable Alerting, Application and Internet Metering / Usage Control and both push and pull Software Distribution over a LAN or WAN. NetSupport DNA now also provides an integrated communication gateway allowing secure interaction with your assets, anywhere, over the internet without the need for a VPN or changes to your existing network or firewall configuration.
With a new Energy Monitoring component helping to highlight areas of potential energy wastage across an organisation's computers, full AD integration, optional ITIL-based ServiceDesk and market leading Remote Control, there has never been a better time to see how NetSupport DNA can save you money and time.
IT assets account for the largest proportion of the overall IT spend, therefore, ensuring they are properly managed and maintained becomes one of the highest priority corporate goals for any organisation where TCO (Total Cost of Ownership) is high on the agenda.
Without a comprehensive management program in place, IT assets can cost far more than necessary through waste and redundancy (direct costs) and overly complex management and maintenance (indirect costs). By implementing an effective IT asset management program, companies can view every asset in their enterprise, allowing them to control and manage IT assets, eliminate waste and redundancy, and comply with ever-tightening government compliance regulations.
The annual cost of supporting this IT infrastructure can often result in costs spiraling out of control, where the initial purchase price of IT assets pales into insignificance. Understanding leasing arrangements and undertaking proactive asset management ensures compliance with software license agreements and makes budget forecasting more accurate. Knowing how many of your users are using a specific application at any given time will allow for both effective trimming of software budgets and a realistic prediction of future software investment.
Information is key. Without this, decisions on upgrades and the roll-out of new technology will not be taken from an entirely informed position. From a cost-saving standpoint, knowing the inventory of IT assets is critical when deciding whether to purchase more assets, redistribute current assets, or retire them completely - along with their costly maintenance contracts and renewal fees.
Recognising that organisations have differing requirements, NetSupport DNA is available in a modular format, allowing you to pick and choose only those features that best meet the current needs of your organisation.


Software Pack 1


Software Pack 2


Software Pack 3


Software Pack 4



Software Pack 5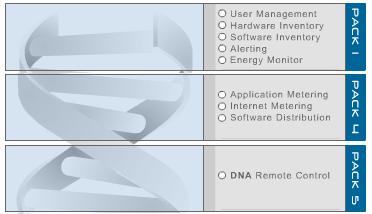 Software Pack 6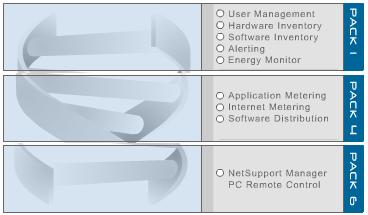 With NetSupport DNA You Get The Full Picture
What sets NetSupport DNA apart is its ability to report on your assets no matter where they are, going beyond just a local or wide area network. NetSupport's Internet Gateway technology provides a stable and secure method for tracking assets that may ordinarily be 'hidden' on a remote network or behind firewalls.
NetSupport DNA integrates with Active Directory enabling you to configure the PC's and Users within the DNA Console to mirror their relative position within the Active Directory Container structure. Changes made within the AD structure are automatically reflected within DNA. User Information can also be retrieved from Active Directory.
IT Asset Management (ITAM)
The IT Asset Management function is the primary point of accountability for the life-cycle management of information technology assets throughout the organization. Included in this responsibility are development and maintenance of policies, standards, processes, systems and measurements that enable the organization to manage the IT Asset Portfolio with respect to risk, cost, control, compliance and business performance objectives as established by the business.
IT Asset Management is an integrated approach that works with all departments that are involved in the procurement, deployment, management and reporting of IT assets.
ITAM business practices and NetSupport DNA have a common set of goals:
Uncover savings through process improvement and support for strategic decision making.
Gain control of all inventory across the enterprise.
Increase accountability to ensure compliance.
Enhance the performance of assets and their life cycle management.
Risk reduction through standardization, proper documentation and loss detection.
Hardware and Software Inventory - Asset Management

IT Asset Management and Hardware Inventory
If decisions on upgrades and the roll out of new technology are to be taken from an informed position, then information is key. With this in mind, NetSupport DNA provides one of the most comprehensive and detailed Hardware Inventory modules available on the market today.
A wealth of information for specific PCs is provided ranging from CPU and BIOS types to memory, memory slots used and those available for future expansion. Information is presented either for a specific PC or for departments summarised by category, such as by Operating System, CPU, Video Card or Memory.
Inventory reports are displayed either for a single PC, a selected Department, condition based "Dynamic Group" or for the Company.
Hardware Inventory updates can be configured to run at different time intervals. Specific settings can be applied for the Company or for separate departments. The DNA Operator is able to run a quick Inventory update at any time.
Ensuring the most accurate information is always available, DNA provides the option to add details of associated items manually, such as a PDA or Mobile Phone, and provides a standalone Inventory scan of a non-networked PC which can be added to the DNA database.
NetSupport DNA offers multi-platform support for Windows and Linux systems.
For use in conjunction with the NetSupport DNA Asset Management suite, the NetSupport DNA Mobile Console App can be downloaded for free from the Android Marketplace or the Apple iTunes stores.
Perform an on-line Inventory of your computer in under 60 seconds - try it here
Software Asset Management and Inventory
NetSupport DNA helps organisations manage license compliance and reduce software overspend by accurately reporting installed software and proactively identifying PC's with software that has no or low usage.
Featuring a detailed summary of all installed programs and applications detected on each PC, NetSupport DNA displays this information for either a selected PC, a department or custom group. Full support for recording, tracking and the management of software licences and maintenance contracts is included.
Recognising that often there are many different versions of a common application in use, DNA provides the ability to create customised Application Groups, where all such versions are grouped together for more effective reporting.
Inventory reports are displayed either for a single PC, Department, Dynamic Group or for the overall Company.
NetSupport DNA offers multi-platform support for Windows and Linux systems.
Software Inventory reports both Programs installed ( e.g MS Office Professional) and
Applications installed ( e.g MS Word, Excel etc)
NetSupport DNA also provides a File Scan option whereby specified file types can be located on PC's. This could be used to ensure documents are not being stored locally and missing company backup routines or to enforce the companies policy on the misuse of copyrighted digital materials such as music and video files.
Alerting & Reporting
System and PC Alerting
System Alerts - (Win 98, ME, NT, 2000, 2003 and XP Clients)
Identify any changes within the data gathered by NetSupport DNA across the overall enterprise, including alerts for:
New PCs Added.
Changes in key Hardware Inventory (i.e. Memory / CPU changed on a PC, New Monitor installed).
Application installation or removal.
Application licensing warnings (i.e. total copies of Acrobat installed now exceeds company license limit).
Changes to user details.
Internet and Application Metering behaviour (access to restricted sites or applications attempted).
Software Distribution delivery alerts (delivery fail, or advertised package used).
System Alerts also includes an additional category for "Console Alerts" which refer to any changes in conditions not related to a specific PC, for example when a PC is removed / deleted or a change is made to an operators rights or configuration.
Energy Monitor
For most organisations the efficient use of energy delivers two key operational requirements: - cost reductions and improved environmental responsibility. The two elements combined can be considered as "Green IT" - everyone is talking about reducing CO2 emissions and in the current economic climate, reducing energy bills is an equally appealing target. Industry analysts show that IT energy costs are often one of the highest on the company's IT budget and one that is most overlooked for efficiency management.

Metering
Application Metering
Knowing how frequently a specific application is being used, will allow for both effective control of software budgets and a realistic prediction of future software renewals and investments.
NetSupport DNA offers an Application Metering component which reports all applications used on each Windows PC, detailing the time the application was both started and finished and the actual time it was active and in use. Additionally, when the data is viewed at "department" level, summaries by frequency of use or by duration are shown.
Application usage can also be restricted by time of day, for all or selected users or departments . Application control can be used to ensure usage of a selected application does not exceed current license levels and can be used as a security measure to control where key applications can be run and at what times of day.
Application Metering enables the business to perform the following critical functions:
Monitor and report current license usage levels for all installed programs and applications.
Improve management effectiveness by controlling and restricting application usage throughout the enterprise.
To ensure that application usage complies with corporate policy.
Lists of Approved and Restricted applications together with times when restrictions apply, can be created and enforced by the Operator.
Analysis and reporting by Computer or by Logged On User.

Internet Metering
Similar to Application Metering, NetSupport DNA provides a detailed summary of Internet (or Intranet) activity on each Windows PC, allowing for effective monitoring of Internet activity across the enterprise.

Distribution
Software Distribution over Local and Wide Area networks
NetSupport DNA provides a multi-delivery option for Software Distribution.
DNA can process the software it distributes to target machines in two ways: firstly, an operator can apply parameters to a collection of files or folders which can then be actioned on delivery; or secondly they can script and record the user prompts that will appear during an installation, which bypasses the need for operator intervention.
Once created, the application package can be automatically "Pushed" to the target PCs for deployment or alternatively "Published" centrally on the DNA server. Once published, a user can check to see which applications are available for their PC, based on their departmental membership and install these on demand.
However, when initiating large scale deployments, the need to minimise network traffic congestion becomes a priority. In this case, NetSupport DNA allows a Client PC, ideally local to the target machines, to be nominated as a "Distribution Warehouse". When the package is deployed, rather than distributing the package individually to each PC, it delivers the package directly to the "Warehouse" Client which then takes over and distributes it to the target PCs on its local LAN segment.
Remote Control
Remote Control: Watch, Share and Control Remote Systems, manage real time problem resolution.
As networks continue to evolve, organisations are faced with the continuous challenge of providing support to a diverse range of platforms, protocols and physical assets.
To ensure that critical IT infrastructure is available when needed most, NetSupport DNA offers 2 types of PC Remote Control providing differing levels of remote user support.
Reporting
User Details: Locate and Manage your Users
NetSupport DNA provides a range of features to locate and Manage PCs and Users within a networked environment. Not only does DNA store key user data (Name, Telephone etc.) but it also provides detailed storage of supporting Asset, Lease and Maintenance data. In addition DNA provides the customer with the ability to customise the data to be gathered and collated from each user.
DNA also provides the mechanism to create Dynamic groups, these are added to the main Company Tree view and can contain PCs from any number of departments. A typical group might be "all PCs with Windows XP and more than 256Mb of Ram".
Other supporting Tools include Connection Statistics, Find User, Chat, Message and a powerful Data Query Tool. DNA also keeps a history of changes to the data entered in User Data. Changes to Custom User Details are recorded including the following fields: Employee Number, Location, Asset Tag and Owner.
Mobile
NetSupport DNA Mobile Console
Manage your IT assets on the move with the NetSupport DNA Mobile Console
Improve productivity, reduce visit times and minimise disruption to your customers with the NetSupport DNA Mobile Console - delivering real-time asset information direct to mobile devices, ensuring your IT team and field engineers have the data they need to make informed 'on-site' decisions.
Compatible with Android phones and tablets, iPhone, iPad and iPod Touch, the Mobile Console connects with your central DNA Inventory giving you access to accurate, up-to-the-minute asset data wherever you are.
Instantly find the required machine from the displayed list, by machine name or asset tag, and call up a current Hardware Inventory, view historical Hardware and Software changes and identify real-time system and PC alerts.
The NetSupport DNA Mobile Console App can be downloaded for free from the Android Marketplace or the Apple iTunes App store and is for use in conjunction with the NetSupport DNA Asset Management suite.
NetSupport ServiceDesk
The availability of mission critical systems is key to the success of any modern organisation and to the productivity of the staff that use them. Ensuring this is the case relies on the ability of your IT support team to deliver an effective and timely response to issues as they arise.
NetSupport have over 20 years experience helping corporate and education customers implement effective service management practices through its range of compatible Desktop Management solutions.
Manufactured by: NetSupport
UPC No:
Mfg Part No: NSDNAP5500
Box Size: ( Length:0, Width:0, Depth:0)
Shipping Weight: 1.0000 pound(s)
Click here for full warranty and support information
NetSupport logos are registered trademarks of NetSupport. All others trademarks and copyrights mentioned herein are the property of their respective owners.