Canopus ADVCmini Video (672237)
Price:
$15899
Free shipping Today!
Canopus ADVCmini Video (672237)
Item#:  8564415  | Model#: 672237
Price:

$158

.

99
Free Shipping Today!
Shipping:

Temporarily out of stock. Order today and we'll deliver when available. (Details)
Canopus ADVCmini Video (672237) Product Details
The ADVCmini video capture solution is the best way to transfer video from your VCR, camcorder, or other video equipment directly on to your Mac for editing. Using iMovie, video captured from the ADVCmini may be easily uploaded to YouTube, iTunes, AppleTV, and other video websites.
The ADVCmini was developed specifically for Macintosh users who want to capture video and audio from an analog source. It was designed to be simple to use, delivering the high-quality visual results that are associated with the acclaimed ADVC (Advanced Digital Video Converter) brand, a brand that has sold over 400,000 units to date!
Using the capture software supplied, anyone can master video capture in no time at all. The software interface is icon-driven and designed to look like a video recorder, so that users immediately feel comfortable using it. This makes ADVCmini reassuringly user-friendly for those new to video capture.
Because video is captured as a QuickTime file, it can be subsequently edited in iMovie or any other Macintosh video editing software. Users enjoy the convenience of being able to add the material to a DVD, upload it to YouTube, or transfer it to an iPhone.
As with any AVDC converter, quality is a paramount consideration. ADVCmini uses PerfectPicture technology to maintain superior image quality when capturing video. PerfectPicture employs 3D Y/C separation--high-precision separation of composite video signals into luminance (Y) and chrominance (C) signals. This processing minimizes the artifacts common with other converters, such as distortion, discoloration and moiré effect (PerfectPicture applies only to composite video capture).
Also originally developed for its ADVC predecessors, PerfectSync stops video and audio drifting and becoming out of sync during capture, a common problem with other converters.
The unit is very compact and no bulky power cords or adapters are required because the converter is USB-powered. Not only does the ADVCmini work with NTSC (the television broadcasting standard in Japan and North America), it is also compatible with PAL, widely used in Europe. ADVCmini automatically detects this--the user does not have to change the mode between PAL and NTSC.
The ADVCmini comes complete with all necessary cables, from the USB cable to connect to your Macintosh PC to various cables for connecting AV equipment (S-Video, composite, and audio). Just install the software, connect the converter, and you're ready to start capturing video!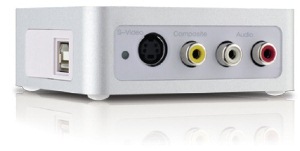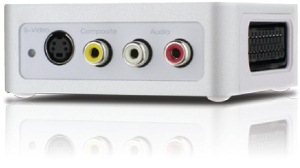 Key Features:
Works with all home and professional analog equipment
Capture from composite, S-Video, and SCART equipment (EU only)
Nothing else to buy - capture software and all cables included
Stereo audio capture with input level adjustment
Connects to Mac via USB 2.0
Powered by your Mac via USB cable
PerfectPicture technology provides:
3D Y/C separation for superior composite video capture quality
Hue, saturation, and brightness (HSV) controls
Contrast and quality adjustments
Specifications:
Video Input:
Composite analog
S-Video
SCART (EU only)
Audio Input:
RCA stereo pair
Audio input level: FS 0.83V RMS(typ.)
Audio impedance: 10 kO
PC Interface:
Digital Video Format:
QuickTime Movie (.MOV)
Compatible with iMovie and iTunes
Maximum of 12 hours of video per recording
Power consumption: 5V, 500 mA (USB bus powered)
System Requirements:
OS: Mac OS X 10.5 or later
CPU: Intel Core Duo Processor 2 GHz or faster
Memory: 1 GB or higher
Graphics: Intel GMA950 or faster GPU 64 MB memory or higher
HDD: 50 MB for installation
Manufactured by: Canopus
Warranty provided by: Canopus
UPC No:
Mfg Part No: 672237
Box Size: ( Length:0, Width:0, Depth:0)
Shipping Weight: 3.0000 pound(s)
Click here for full warranty and support information
Canopus logos are registered trademarks of Canopus. All others trademarks and copyrights mentioned herein are the property of their respective owners.