Green Screen Wizard Pro Editor Version digital
Green Screen Wizard Pro Editor Version digital (GSWS)
Item#:  8811800  | Model#: GSWS
Price:

$199

.

95
Shipping:

Temporarily out of stock. Order today and we'll deliver when available. (Details)
Green Screen Wizard Pro Editor Version digital Product Details
Green Screen Wizard Pro Studio Editor Version










GreenScreen Wizard Pro is packed with advanced features to help free your creativity, and run a Green Screen Photography business. It offers our unique sandwich overlays, the pick function, a shadow generator and very cool special effects that include silhouettes and blurred backgrounds.




Green Screen Wizard Standalone comes in three versions and is a Windows only product.

The Full Version for people that want a full featured green screen photography program at a great price
The Pro Studio Editor Version for professional photographers that demand the very best in green screen software
The Pro Batch/Event Version for customes that need to do Event Photography or automate their Green Screen processing

The Airbrush Editor makes Green Screen Wizard the most powerful Green Screen Software on the planet!

With the Green Screen Wizard Airbrush Editor you can use brushes to give the algorithm more information about the image and what part of the image needs to be changed. For example you can use a brush to erase areas of the screen that have shadows on it. If someone is holding green flowers or has on a green shirt you can use the Editor to restore the green color. The most amazing brush in the Editor is the hair brush. With this brush you can tell the algorithm the exact hair color you're looking for and it will attempt to process any green areas that might possibly contain the selected hair color. This results in the very best hair restoration possible.

There are nine specialty brushes that make green screen processing more powerful

1. Erase Background - To replace the foreground with the background

2. Restore Foreground - To restore green areas, like flowers and clothing

3. Blend - This blends the foreground and background for wedding veils and transparent areas.

4. Hair - Lets you select hair color and then extract it

5. Filter- Like hair but you select a cloth color

6. Blend Edges - Smooth Edges

7. Spill - To remove Green Spill

8. Restore Black - Restore Black

9. Restore White - Restore White

In the old days of black-and-white photography is was very easy to airbrush photos. Most of the movie stars of the time had flawless skin due to the skill of these airbrush retoucher's. With color photography this became a little more challenging. The airbrush Editor's second mission is to make touching up color photos a simple matter.

1. Blur - Will blur the skin for a softer look

2. Smooth - Will take out variations in skin tone

3. Copy - Copy's one section of the photo to another

4. Brightness - Change the brightness of any section of the photo

5. Contrast - Change the contrast of any section of the photo

6. Paint - Paint any color to add color to skin, or eye shadow
Here are a few examples:
In this example the Airbrush Editor restored the green flowers, created a prefect restoration of the veil and used the copy button to remove the green stems of the bouquet.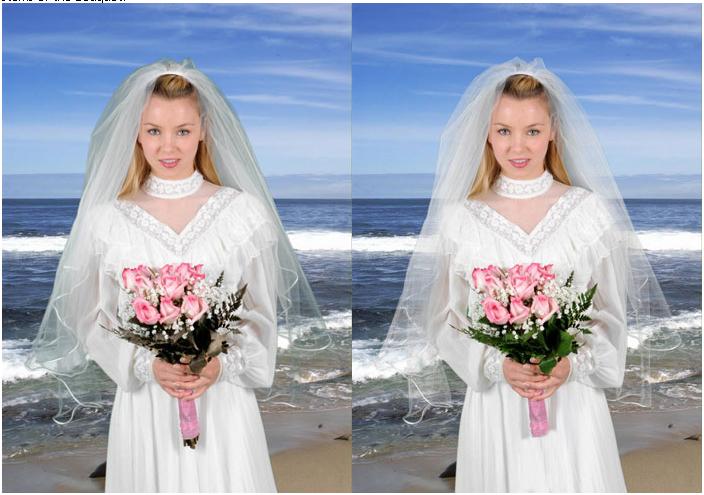 In this next example we restored hair using the hair brush (some of this effect could be create by a better adjustment of the combine sliders) and removed the dark area created by the shadow on the screen.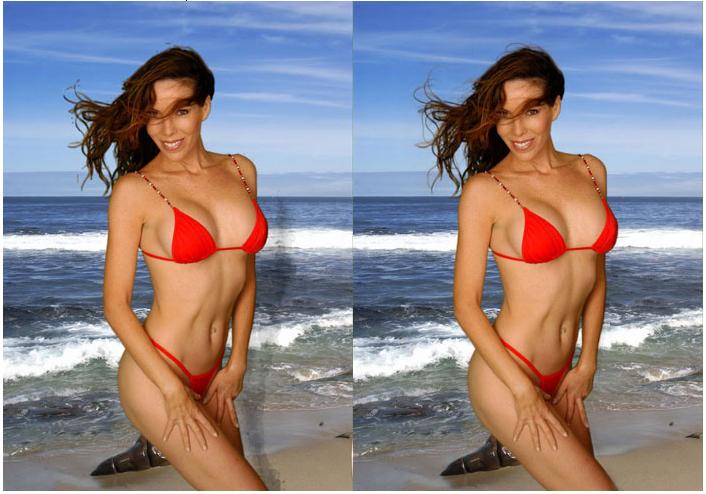 This examples shows the ability of the Hair Brush to restore even the finest hairs.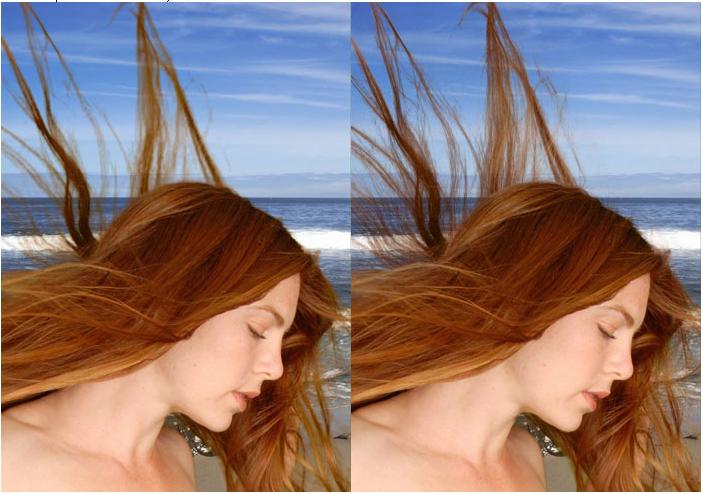 As indicated by its name, the Airbrush Editor is not only used to repair green screen problems, it can also be used to "Airbrush" photos. In this example we removed wrinkles, softened skin and enhanced the eye shadow.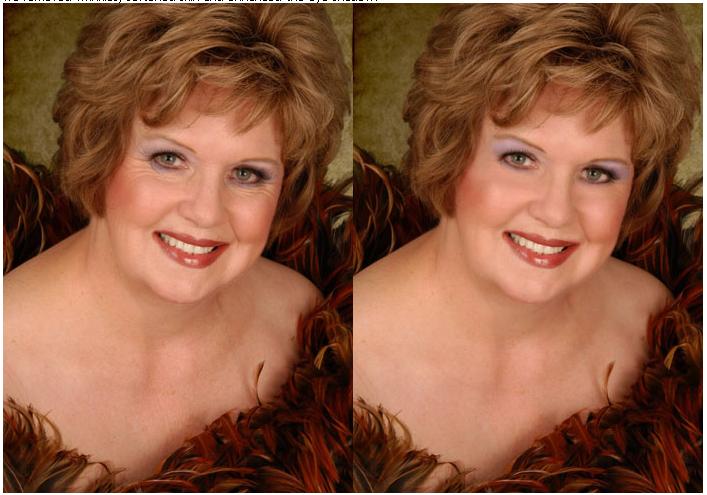 Recommended Items
Manufactured by: Green Screen Wizard
UPC No:
Mfg Part No: GSWS

Shipping Weight: 1.0000 pound(s)
Click here for full warranty and support information
Green Screen Wizard logos are registered trademarks of Green Screen Wizard. All others trademarks and copyrights mentioned herein are the property of their respective owners.