Green Screen Wizard Full Version digital (GSWF)
Green Screen Wizard Full Version digital (GSWF)
Item#:  8811798  | Model#: GSWF
Price:

$99

.

95
Shipping:

Temporarily out of stock. Order today and we'll deliver when available. (Details)
Green Screen Wizard Full Version digital (GSWF) Product Details
Green Screen Wizard Full
















Green Screen Wizard is powerful green screen software for photographers that is inexpensive and simple to use. Green Screen Wizard is a self-contained chroma key removal program that does not require Photoshop or any other photo editing application to produce beautiful green screen photos.

Green Screen Wizard Full is intended for people that have a serious interest in green screen photography. The Full version has all the tools you will need to create top-quility green screen images. Green Screen Wizard is another high-quality software product from Ken Colby, an accomplished software designer with a life-long passion for photography.





Simple User Interface
Green Screen Wizard offers a simple, intuitive user interface that makes it easy to learn, easy to use, and fun for all ages and skill levels.

Have Fun, Make Money with Green Screen Wizard Full

Fun for your family: Put them in settings from around the world.
An instructional aid for teachers: Teach a class on Rome, Greece, or maybe the Wild
West? Drop a picture of your student into various locations, or bring a green screen to class and then take a photo of the student and put his or her image in the era that they are learning about.
Versatile Backgrounds for Portrait Photography: Eliminate the need for for a variety of fixed backgrounds or elaborate sets. Green Screen Wizard can use any jpeg to provide exciting backgrounds for your images.
Elegant settings for Wedding Photographers: Produce great bridal portraits regardless of venue.
More flexibility for Model Photography: Add diversity to a model's portfolio with beach or exotic location shots.
The uses for this program are limited only by your imagination.

Why Buy Green Screen Wizard Full?

Intuative Interface makes getting results fast and easy
Supports both blue and green screens
Can use any jpeg as a background
Can create high resolution images, up to 600 dots per inch
New Overlay feature lets you create magazine covers
Written in C++ makes it is fast
Constantly under development with free updates to purchased version
You are not stuck with an entry level product, your purchase price may be applied to upgraded versions
Reality integration gives the most realistic green screen output
The Full Version offers built in printing
Brightness, color, and rotation adjustments are available
Simple labeling is now part of the Full Version
Exposure
Used to match the foreground and background exposures.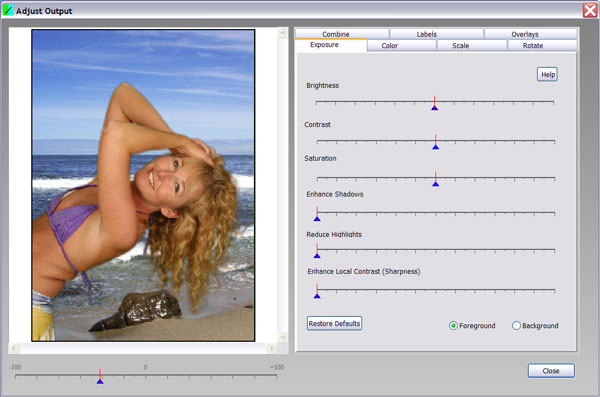 Color
Used to match the foreground and background color.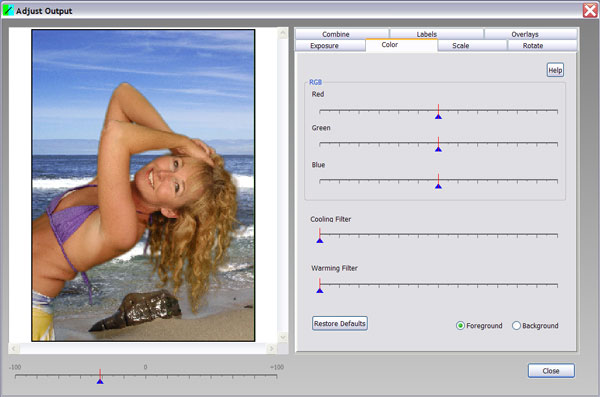 Clipping
Clip the sides of an image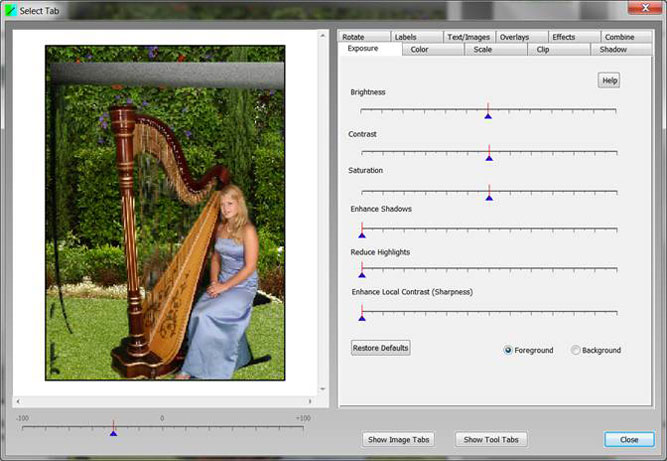 Rotation
Flip or rotate forground or background.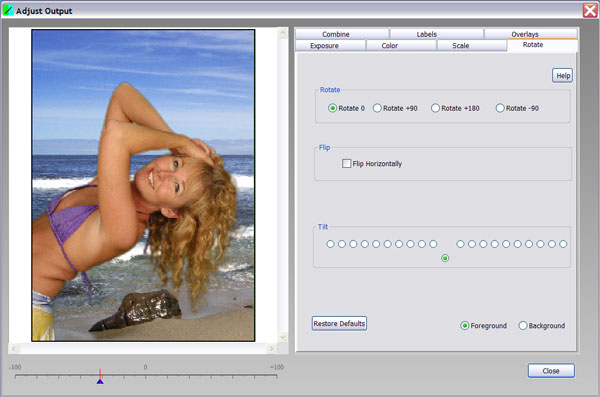 Image Scaleing
Allows the independent scaling and moving of the foreground and background.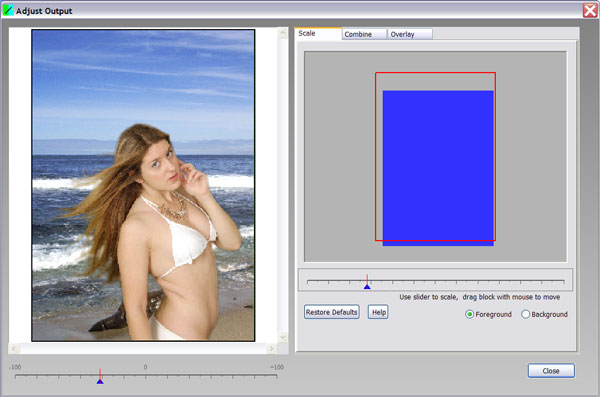 Combine Settings
These settings determine how the foreground image is merged with the background. You may use the EZCombine screen or the more detailed sliders.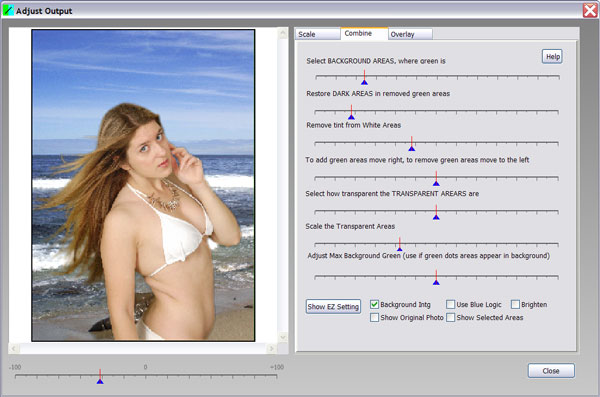 One Overlay for Magazine Covers or Frames
A single overlay is provided so that you can do magazine covers or add a frame to your image.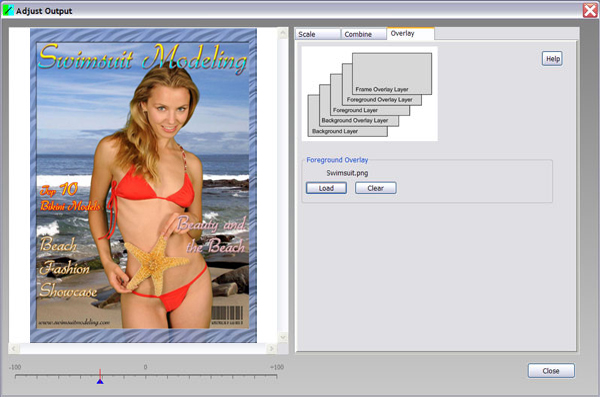 Image Labels
Can add two labels to the image.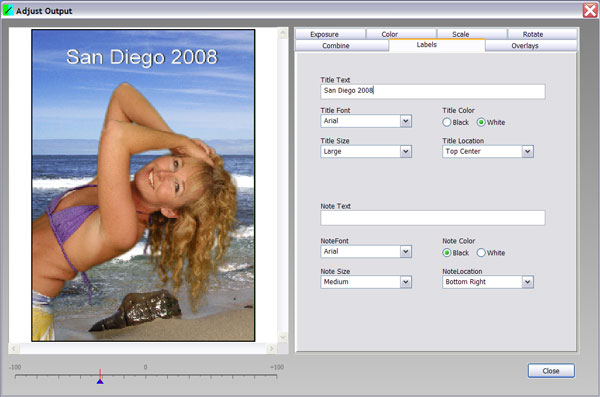 Greating Card
Create Greeting Cards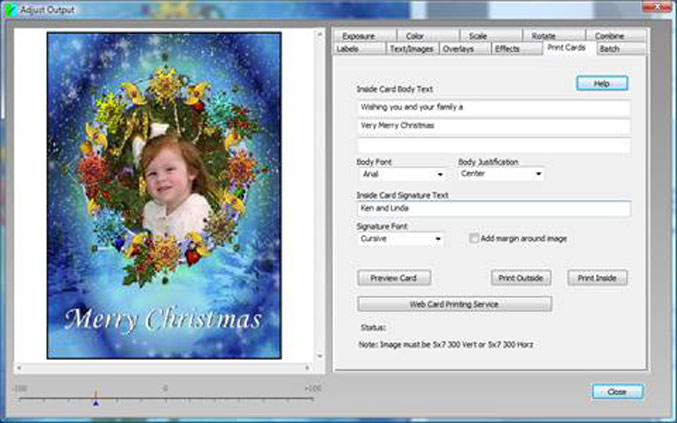 Recommended Items
Manufactured by: Green Screen Wizard
UPC No: 0084691088790
Mfg Part No: GSWF

Shipping Weight: 1.0000 pound(s)
Click here for full warranty and support information
Green Screen Wizard logos are registered trademarks of Green Screen Wizard. All others trademarks and copyrights mentioned herein are the property of their respective owners.