Denon 7.1 Channel 3D Pass Through and Networking
Denon 7.1 Channel 3D Pass Through and Networking Home Theater Receiver with AirPlay and Powered Zone-2 Capability - (AVR1913R)
Item#:  9233464  | Model#: AVR1913R  | 
List Price:

$579.99

Instant Savings:

- $251.00  (43%)

Price:

$328

.

99

†
Shipping:

Temporarily out of stock. Order today and we'll deliver when available. (Details)
Denon 7.1 Channel 3D Pass Through and Networking Product Details
Enjoy high-quality audio and video--as well as advanced network functions--with the AVR-1913 Integrated Network AV Receiver from Denon. Using this 7.1-channel home theater receiver, you can listen to Internet radio or play music from your iTunes library on your iPad, iPhone, iPod Touch, or computer. A built-in upscaler converts analog signals into 1080p HD video, while an intuitive graphical user interface makes the receiver easy to operate.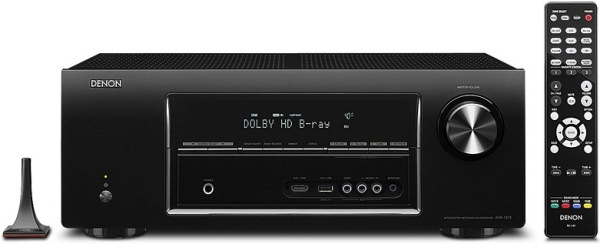 Advanced Functions to Play Streaming Media
The AVR-1913 Integrated Network AV Receiver allows you to enjoy not only powerful surround sound through a 7.1-channel home theater system, but also a variety of advanced network capabilities, like listening to Internet radio and playing music files stored on your PC.
The AVR-1913 supports services like SiriusXM Internet Radio, Pandora, and Flickr as well as Apple's AirPlay technology, allowing you to listen to music content from the iTunes library on your iPad, iPhone, iPod Touch, PC, or Mac. The receiver is DLNA 1.5 certified and compatible with PCs running Microsoft Windows 7.
Consistent Power for High-Quality Sound
Each of the AVR-1913's seven 90-watt channels is powered by its own discrete circuit. This allows the receiver to reproduce original sound more faithfully than conventional models, which use integrated circuits.
Create a 3D Home Theater System
The AVR-1913 features 3D pass-through technology. By connecting a 3D Blu-ray disc player and a 3D TV to the receiver, you can have a 3D home theater system with high-definition sound and video.
Audyssey Technology for Enhanced Audio
The AVR-1913 features a full package of Audyssey audio technologies for optimal sound quality. Audyssey Dynamic Volume offers real-time volume adjustment, while Audyssey DynamicEQ improves your system's surround effects during low volume levels. Audyssey MultEQ automatically sets speakers to suit your room's listening environment and the speakers' characteristics.
Richer Spatial Expression with Dolby Pro Logic IIz
With the option of two additional height channels, Dolby Prologic IIz adds a vertical dimension to the soundstage, providing more immersive surround sound.
Minimum Signal Path for Clear Audio and Video
This receiver features a simple and straight design concept implemented in the signal paths to contribute to optimal audio and video playback. The signal paths are as short as possible to keep degradation to a minimum.
Built-In Upscaler for Playing HD Video
The AVR-1913 is equipped with a video upscaler that converts standard-definition analog video into high-definition 1080p signals. As a result, you can enjoy standard-definition video sources in the detailed quality of high-definition.
Assign Power Amps for Different Audio Setups
The AVR-1913 is equipped with a video upscaler that converts standard-definition analog video into high-definition 1080p signals. As a result, you can enjoy standard-definition video sources in the detailed quality of high-definition.
Easy to Operate
The AVR-1913 receiver offers an intuitive graphical user interface (GUI) with large, easy-to-read characters. The new "Setup Assistant" prompts you through the initial setup, making it a breeze. Using any of four quick-select buttons, you can preset volume level and surround mode for the sources you most frequently use, so they're ready to play each time with the press of a button. The receiver comes with a simple remote control that runs on two AA batteries (included).
HDMI Ports to Connect Your Mobile Devices
The AVR-1913 features six HDMI inputs, including one on the front, to easily connect mobile devices like a camcorder or tablet, and immediately enjoy videos, photos, or music.
Front Panel USB Input
With a built-in USB port, the AVR-1913 supports digital music playback from an iPod, iPhone, iPad, or other USB devices.
Specifications:
General:
Finish: Black
Equal Power Amplifiers: Yes, 7-Channel
Power Output; Watts Per Channel: 90
All Channels Rated @ 0.08 THD
Low Impedance Drive Capability
High-Current/Discrete Amplifiers
dlna 1.5 Certified
Windows 7 Certified
Apple AirPlay Certified
Made for iPod/Works with iPhone Certified
RadioDenon.com - access to over 12,000 Internet Radio Stations
Flickr Photo Streamming
Pandora Radio Streaming
Rhapsody and Napster Streaming: No, SiriusXM
Microprocessor User Re-set
Low Power Consumption in Standby Mode (0.1w)
Interactive Owners Manual on CD-R
Connectivity:
Digital Inputs: Coaxial: 1
Digital Inputs: Optical: 1
True 24-bit/96-kHz Digital Input Capability
Assignable Digital Inputs
Analog Audio Inputs, Incl. Tuner: 5 (including FM Tuner, No built-in AM Tuner)
HDMI Video Inputs - v1.4a Supports 3D and Audio Return Channel: 6 (Including front HDMI input)
HDMI Video Outputs: 1
HDMI Audio/Video Repeater Function
HDMI Video Switching Function
HDMI Deep Color Support-36Bit
HDMI xvYCC Color Space Support
Composite Video Inputs: 3 Incl. Front
Composite Video Outputs: 1
Component Video Inputs x Bandwidth - *Assignable: 1 x 60 MHz
Front Panel A/V Inputs w/Cover * Composite
RJ-45 Etherent Port - IP Control and Network Audio/Photo Streaming
PC Setup and Control Capability: Yes (Control)
IR Serial Remote In/Out terminals
Main Zone Pre-Amp Outputs: Sub
USB Audio Port: iPod Direct/Flash/HDD
Convenience Features:
iPhone App Control
Auto Setup Calibration
Input Delete Function
Auto/Manual Room Equalization
Audyssey MultEQ Room Equalization: YES/MultEQ
Audyssey Dynamic Volume
Audyssey Dynamic EQ
Auto Setup Microphone Included/Type
Variable High/Low Pass Crossover Points (12/24dB) - 40/60/80/100/ 120/150/200/250
Source Function Renaming
Video Conversion - Analog to HDMI
Video Scaling: Yes (1080p)
Icon-Based Graphical User Interface with video overlay on 1080p HDMI output
On Screen first time Setup Wizard
Personal Memory Plus
Audio Signal Delay (Sync. Audio with Video signal) - By source
Auto Surround Mode (Analog or Digital Input Type)
56 Station Auto-Preset Memory Tuning
Direct Function (Tone Bypass)
Volume Control Un-muting
Video Select Control
Multi-Source/Multi-Zone: 2S/2Z
Discrete Remote Power On/Off, Source Selection and Volume for Main and Second/Third* Zones
Assignable Amplifier Configuration of Surround Back Channels
Speaker Time-Delay and Level Controls: L/R, Sub, C, Surr. L/R, Surround Back
Relay-Controlled Protection Circuits
Pre Labled Assignable Digital Inputs
Component Technology:
Dolby Digital, dts and DSP Modes - Analog Devices, HammerHead SHARC
Processor(s) - Bit Depth and Type: ADSP21487 x 1 32-bit Floating Point
24-bit/192-kHz DACs: AKM Semiconductor 24-bit/192-kHz AK4358VQ x 2 per channel differential
Analog-to-Digital Conversion - Bit Depth/Sampling Rate: 24-bit/96-kHz
Analog Devices Noise Shaped Video (NSV)
Independent Power Supplies
Banana Plug Speaker Terminals, All Channels
Sound Modes:
Dolby Pro Logic IIz - with Cinema, Music, Game Modes
Dolby TrueHD and Dolby Digital+ Decoding
Dolby Digital Surround EX Decoding
dts-HD Master Audio and High Resolution Decoding
dts ES Discrete 6.1 Decoding
dts ES Matrix 6.1 Decoding
dts Neo:6 Stereo-to-Surround Cinema and Music Mode
dts 96/24 5.1 for DVD-Video Processing
Pure Direct/Direct/Stereo Modes on Digital/Analog inputs
Stereo/Direct Modes w/Pure Analog Path
Multi-Channel Stereo Mode
Video Game Mode
Mono Movie Surround Mode
Rock Arena Surround Mode
Matrix Surround Mode
Jazz Club Surround Mode
Virtual Surround Mode - For 2 Speakers/Headphones
THIS PRODUCT IS REFURBISHED
We take great pride in the Refurbished Products we carry on our Website. All Refurbished Products are Grade A Quality, which means they will arrive in cosmetically pristine condition. Each unit undergoes a rigorous refurbishment process in which each unit is tested in all facets and restored to a like-new state. Refurbished products are warranted by either the original manufacturer or the manufacturer's third party refurbisher. Consider purchasing an extended service plan if you desire even more coverage.
Recommended Items
Manufactured by: Denon
Warranty provided by: Denon
UPC No: 883795002233
Mfg Part No: AVR1913R
Box Size: ( Length:18, Width:10, Depth:20)
Shipping Weight: 24.7500 pound(s)
Click here for full warranty and support information
Denon logos are registered trademarks of Denon. All others trademarks and copyrights mentioned herein are the property of their respective owners.