DC Media Network Scheduler Comprehensive
DC Media Network Scheduler Comprehensive Multimedia Management (DMNS)
Item#:  8785010  | Model#: DMNS
Price:

$350

.

00
Shipping:

Temporarily out of stock. Order today and we'll deliver when available. (Details)
DC Media Network Scheduler Comprehensive Product Details
DC Media Network
Scheduler
Multimedia files are registered as assets and documented with meta data tags to aid searching and maintenance. Assets can be previewed before playlisting.
Playlists can be created to have many zones, each with a loop list and a schedule. To populate the playlist for a zone, simply drag the assets into the playlist. When the playlist is complete and ready for distribution, click on the Network button and distribute the playlist and scheduled content to selected players.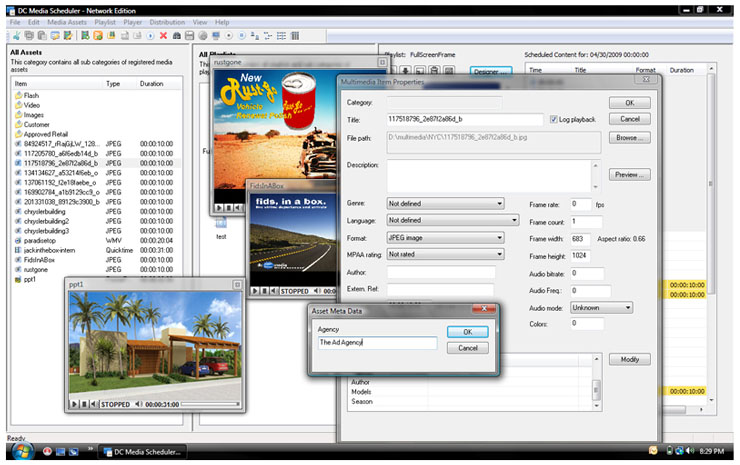 DC Media Scheduler is a desktop based application for managing content, designing layouts and distributing content & layouts to signage players. The Scheduler includes a content manager, layer designer and playlist editor in one application.
The Scheduler application provides comprehensive multimedia management and playlist creation with content and playlist distribution via a host of network configurations including broadband and satellite. Supporting over 35 content formats, the scheduler includes comprehensive multimedia asset management, multi-layered screen design, date and time scheduling, day-parting and the integration of hardware plug-ins and live content. Compatible with Microsoft Windows XP, Vista, and Windows 7 the DC Media Scheduler enables users to easily create media-rich Digital Signage displays using a Windows-based user interface. The design architecture has ensured that users are able to build professional-looking displays easily without undergoing a lengthy learning process, and the feature-rich nature of the software enables users to expand their display capabilities as they become more familiar with the product.
Features include:
Register video, image, Adobe Flash and up to 37 multimedia formats in the content library.
Associate metadata with content assets to facilitate classification and content searching.
Create additional content such as ticker messages, multimedia streams, live TV, date and time displays and more.Group content into categories.
Create playlists and schedule content in the playlists using simple drag n drop techniques.Edit the layout of the display using the graphical layout editor. Layers can be added and removed, resized and overlaid.
Manipulate playback options including layer masking and sizing.
Distribute content and playlists to individual players using drag and drop.The scheduler supports looped content playback for all day scheduling as well as time specific scheduling with the options for weekly, hourly, daily or monthly repeats.
Wide Range of Content Support
DC Media supports over 35 multimedia formats including MPEG1, MPEG2, MPEG3 Audio,MPEG4, QuickTime, Windows Media, Adobe Flash, Flash Video, JPEG's, PNG images, TIF images, Bitmaps, Digital Signs, Scrolling Ticker messages, Live TV, HTML (online and offline), PDF files and plug-in DLL's.
Content Management
Multimedia content is registered with customizable meta-data tags and can be searched on genre, language, title, description and meta-data values. Content can be grouped in categories and previewed before scheduling.
Content Authoring
The DC Media Sign Creator empowers you to create rich media and get your message across, integrate live data and capitalize on every pixel of your visual real estate. Combine images, text, shapes, audio and display effects to create great looking content within minutes. Text and image items can be linked to dynamic data sources including SQL, CSV, XML and DLL files developed using our extension API.
Scheduling and Playback
Using the DC Media Scheduler you can schedule by time and day, day of the week, day parting or simply just create a looped list. Schedule a wide range of content formats for playback in any number of layers to fit any display size and orientation. Inside each layer, content can be scheduled to play in a looped list, a list of day partings or according to a date and time selection. Layer Move instructions can be scheduled to create squeeze-backs and picture in picture layers while audio prioritization ensures that multiple content items don't compete for audio playback.
Date and Time Scheduling
Content playback can be looped or scheduled on a date and or time basis. Content expiry is also supported.
Day-parting
Looped playlists can be segmented using custom day partings.
Shaped Layers
Layers can be shaped using either a pre-defined list of layer shapes or a custom made layer shape mask.
User Access Control
The Scheduler and the Network Manager can have user access enabled requiring user login using a user name and password. User roles can be defined restricting users to specific activities.
Connectivity
Distribute content and playlists to individual players or groups of players over a LAN, WAN, the Internet or using reliable multicast over Satellite. The Player can also be configured to automatically upload content from a USB drive or DVD.
Management
DC Media Network Edition includes the Digital Signage Network Management for comprehensive network management.
Audio Priorities
Layers can be assigned audio priorities to ensure that the dominant layer has access to the audio output channel.
Unlimited number of Text Scrollers
Your digital signage display can have as many scrolling messages as you require, scrolling left, right and up.
Background Audio
Zone's containing only audio files can be displayed off-screen to create in-store music and background music solutions.
Plug-in API
DC Media can be extended with DLL files developed using a published API for hardware and software integration.
Encrypted proof-of-play
All proof-of-play records are encrypted on the player storage medium to prevent tampering.
Related Items
Manufactured by: DC Media
UPC No:
Mfg Part No: DMNS
Box Size: ( Length:0, Width:0, Depth:0)
Shipping Weight: 0.0100 pound(s)
Click here for full warranty and support information
DC Media logos are registered trademarks of DC Media. All others trademarks and copyrights mentioned herein are the property of their respective owners.