Tech21 Patriot Case for Apple iPhone 6 Plus / iPhone 6s Plus - (T21-4298)
Item#:  40059305  | Model#: T21-4298
List Price:

$54.00
Click to See Price in Cart!

Free Shipping Today!
Shipping:

Temporarily out of stock. Order today and we'll deliver when available. (Details)
PATRIOT CASE IPHONE 6/6S, BLACK Product Details
Patriot Case for Apple iPhone 6 Plus / iPhone 6s Plus - Black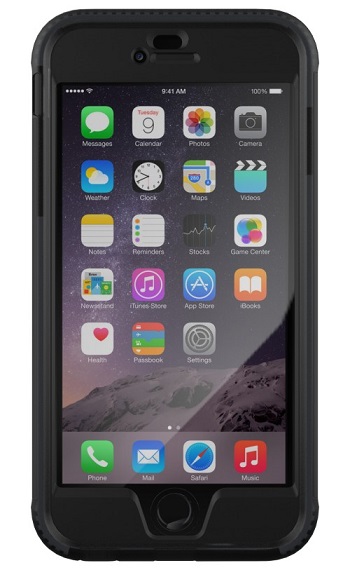 Patriot protective case which provides superior protection for the front, back and sides of your device.
360° Case and Screen Protection.
On a building site, hanging from a rock face, or on a battlefield sometimes you just need a more robust, more protective solution for your phone. Designed from the ground up to deliver maximum protection for life outside the office, the Patriot case for iPhone 6 is our most protective and rugged solution to date.
Intelligent Screen Protection.
To create an ultra-thin screen protector that offers advanced impact protection and perfect optical clarity, we turned to science, developing a unique, multi layer structure. A hard top layer spreads the force of impact over a wider area. The second layer, BulletShield, is also used in bullet proof glass and absorbs and dissipates the force. The third layer slows down and further absorbs any remaining impact force resulting in the world's most advanced screen protection.
Robust Drop Protection.
FlexShock is the world's most advanced impact protection material, absorbing and dissipating impact force and stopping that force from passing into your device. By integrating FlexShock into the design of the Patriot case, we can offer robust impact protection from drops of 4m/13ft.
Dust resistant. Splash resistant.
With dust covers on all ports, and splash resistant acoustic covers on all speakers and microphone vents, your iPhone is kept clean and dry.
Unhindered user experience.
You want to use your phone, uninterrupted, no matter how rugged the conditions. Patriot offers full access to all ports, while mechanical buttons offer precise, tactile access to function buttons. An easy two part assembly means your phone is protected in no time at all and a handy holster is included in the box.
The Patriot case for iPhone 6 Plus and 6s Plus provides superior 360° impact protection for the front, back and sides of the device with a built-in Impact Shield screen protector. Features:
Impactology featuring FlexShock impact material
Advanced impact absorption through geometric ribbing structure
360° impact protection
Built in Impact Shield screen protector with advanced, multi-layer impact protection, self-heal anti-scratch surface, perfect optical clarity and anti-rainbowing
Built to exceed MIL STD 810G.516.6 with 4m/13ft drop protection
Access to all features of iPhone
Exceptional audio quality
It's also dust and splash proof, with acoustic vents which protect all ports, speakers and microphones from water, dust and dirt. It features FlexShock, a cutting edge hybrid energy absorbing material that absorbs, dissipates and repels impact force. FlexShock can be molded to fit the contours of any shaped device, with its impact protective efficiency allowing it to be ultra-thin. Our ground-breaking Patriot design provides advanced impact absorption through a shape optimization geometric ribbing structure built to exceed MIL STD 810G.516.6 with 4m/13ft drop protection. A built-in Impact Shield featuring BulletShield, a BASF polymer found in bullet proof glass covers the screen of your device with advanced, multi-layered impact protection and a self-healing anti-scratch surface created with reflowing polymer. The Impact Shield's anti-rainbowing feature and perfect optical clarity make it incredibly user-friendly. Patriot is easy-to-apply in a simple 2-part assembly with case and clip-on screen protector cassette and mechanical buttons for a tactile user experience. This rugged case comes with a removable holster, for secure impact protection. Please Note: Patriot is not compatible with our Impact Shield screen protector since it features it's own built-in Impact Shield.
Manufactured by: Tech21
UPC No:
Mfg Part No: T21-4298
Box Size: ( Length:0, Width:0, Depth:0)
Shipping Weight: 17.9500 pound(s)
Click here for full warranty and support information
Tech21 logos are registered trademarks of Tech21. All others trademarks and copyrights mentioned herein are the property of their respective owners.