Avid Includes a 1-year support plan that entitles you to free updates and upgrades during that period and with this license you own the software even if you do not continue to renew the support.
Item#:  13154317  | Model#: 9935-65686-06
Avid Includes a 1-year support plan that entitles Product Details
What is Media Composer?
Media Composer is proven and trusted by professional editors in every segment of film, television, and broadcast. Designed to handle high volumes of disparate file-based media, Media Composer delivers accelerated high-res-to-HD workflows, real-time collaboration, and powerful media management, eliminating time-consuming tasks so you can focus on telling a great story. And now the choice is yours—edit on premises, remotely through the cloud, on demand, through a low-cost subscription, or purchase a license outright—making Media Composer the most versatile and accessible tool for professional creative editorial.
The choice is yours

Media Composer now gives you more choices in how you acquire and use the software. Edit on premises or remotely through the cloud. Work on a Mac or PC. Access the software through a subscription, on demand with a floating license, or own the software outright forever with a perpetual license. In addition, you can configure it your way with the options you need to get the job done, from real-time remote collaboration through Media Composer | Cloud (formerly Interplay Sphere), to advanced color correction and mastering tools, iNEWS and ENPS integration, and software for creating effects, titles, and more. It's the only professional editing solution that's available everywhere you need it, the way you want it.
Toggle clips and tracks on and off in the timeline
With new clip and track playback features, exploring compositional alternatives is easier than ever. Quickly compare variations of a sequence by right-clicking on any individual video or audio clip to mute or unmute it from playback. Or try out different variations by creating alternative versions of title sequences, visual effects, and other treatments in multiple tracks and then choosing video tracks to make active or inactive upon playback. If you're coming to Media Composer from other editing software, you'll feel right at home with these features.
Speed up editing with new timeline enhancements

Quickly add and remove trim rollers by Shift-clicking anywhere in an adjoining segment
Easily see which tracks have reached their beginning or end points when trimming with new "end of trim" indicators
Choose whether to select or not select filler with segment tools by Option-clicking the tool buttons any time you want to choose the opposite of your default setting
Copy any segment by dragging and dropping it to a desired location while holding down the Shift and Option keys
Create and save titles directly to a track in the timeline, as well as a bin
Expand digital intermediate and multicam workflows
With the new Avid Image Sequencer plug-in, you can now read DPX files directly in Media Composer—no transcoding required. And if you work in stereoscopic 3D, you can now create groups from stereoscopic clips for multicam editing. Simply add S3D clips to a group; Media Composer displays the metadata for the clip designated as the leading eye in the bin.
Stay up to date with the new application manager
Media Composer comes with a new application manager that keeps you up to date with your software. See what Avid software, AMA plug-ins, and related third-party applications you have installed on your system. Get notified when new updates, upgrades, and renewals are available. Activate and download new software, updates, and upgrades from the interface. And if you're interested in a new product or upgrade, you can even see if a software trial is available to try it out first. It will even alert you about special offers, upcoming webinars, and events.
Accelerate and automate your workflow
Gain more time for creativity with new features that accelerate and simplify file-based workflows. With the new FrameFlex tools, you can acquire high-res sources and immediately start working in HD while maintaining full creative control of the image reframing and keyframing, from beginning to end. With Dynamic Media Folders, non-creative media tasks such as transcoding, copying, and consolidating can be automated in the background, without disrupting your editorial flow. Plus, you'll get peace of mind as Media Composer now fully manages and associates AMA-linked media as reliably as it does with native Avid media.
Edit and collaborate remotely in real time
Edit, share, tag, track, and sync media and projects with everyone on your editing team—no matter where you are in the world. Media Composer enables you to connect to Interplay | Production systems through Media Composer | Cloud (formerly Interplay Sphere), making remote cloud-based collaboration easy and cost-effective. What's more, you can edit just as efficiently as you would if you were all at the home facility, using the same tools and workflows you know and trust.
Gain total audio control
Get the tools you need to perfect your entire soundtrack with ease. With new support for 64-bit AAX audio plug-ins and the new Master Audio Fader, you can create, edit, and enhance audio mixes and optimize the overall program loudness, making broadcast regulation adherence quick and easy. Make audio adjustments to any clip directly in the timeline—independently of any track-based automation—with the Clip Gain control. Generate multiple audio mixdowns automatically using the Multiple Mix window. Maintain audio track sync with Automatic Delay Compensation (like in Pro Tools). And work with floating point audio with new AMA support for Broadcast WAVE files.
Expand your creativity with options
Edit with the exact tools you need by simply adding options for the workflows you want. Add advanced and secondary color correction tools, mastering tools, and the Boris Continuum Complete Lite effects pack with the Media Composer | Symphony Option for online editing. Integrate Media Composer into iNEWS and ENPS workflows with the Media Composer | NewsCutter Option for news editing. Create titles and optimize your audio and video with the Media Composer | Production Pack, which includes NewBlue Titler Pro 2, iZotope Insight, and Sorenson Squeeze. And capture, monitor, and output video with a hardware-accelerated Media Composer | Nitris DX or Media Composer | Mojo DX video I/O interface.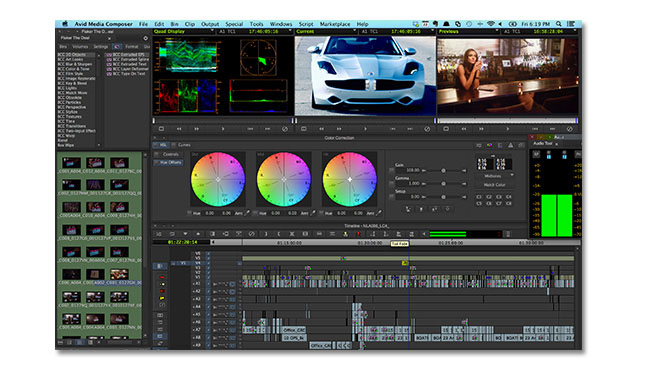 Editing
Full 64-Bit Power
The 64-bit architecture of Media Composer provides more processing power, larger editing bins, and a smoother editing experience with less waiting than with a 32-bit system.
Work With Virtually Any Media
File-based media, 2K, 4K, and 5K footage, analog and digital tape, stereoscopic 3D material, film - Media Composer supports it all. With diverse editing tools and a wide range of features, workflows, and options you can work with nearly everything, from old-school media to the latest camera technologies. Plus, you can work in HD from a high-res source without having to transcode or resize files.
No Transcoding with AMA
With AMA (Avid Media Access), you can instantly access and edit file-based media, including ARRI ALEXA MXF, RED (EPIC, SCARLET-X, and ONE) files, AVCHD, ProRes, QuickTime (including footage from HDSLR cameras), XDCAM, P2, Canon XF, and other formats.
Editor-Focused Tools
Trim and manipulate on the fly using the Smart Tool, or perform ultra-precise edits using traditional tools. Mix and match media formats, frame rates, resolutions, and more in the same timeline without rendering. And edit HD material in real time using Avid DNxHD or DNxHD 444.
Edit 3D
Edit stereoscopic 3D material as quickly and easily as you do with standard 2D footage. Capture, edit, and manage the complete 3D end-to-end workflow. In addition, you can mix and match 2D and stereoscopic 3D clips on the same track, and it features full-fledged editing tools and video effects for stereoscopic post production.
Workflow
Accelerate Performance with Avid Hardware
Pair Media Composer with a Nitris DX or Mojo DX video interface - both separately available - for the fastest possible workflow when ingesting and editing certain formats. You can even customize Nitris DX with up to two Avid DNxHD or AVC-Intra chips to fully support stereoscopic 3D and HD RGB 4:4:4 workflows.
Third-Party I/O Support
Media Composer also supports many third-party video capture and outputs cards, including those from AJA, Blackmagic Design, Bluefish444, Matrox, and MOTU.
Avid Marketplace
Browse for stock footage, plug-ins, hardware, and more - right from within Media Composer.
Audio, Color Correction, and Finishing
Audio
With built-in audio recording, editing, and mixing tools you can:
Record and monitor voiceovers, overdubs, and more using select, separately available Avid audio interfaces
Edit and mix in up to 7.1 surround sound
Polish sounds with 20 included AIR effects - the same plug-ins that come with Pro Tools
Expand your sound with compressors, reverbs, and other sound processing plug-ins, many of which can be purchased within Media Composer from the Avid Marketplace
Color Correction and Grading
A fully integrated 10-bit color correction toolset lets you:
Quickly and accurately match colors from shot to shot using NaturalMatch
Gain better color precision with support for full-quality 4:4:4 HD-RGB color space processing
Get fine control over shots with animatable color correction
Speed up your color work with Artist Color
Broadcast AS-02/AS-11 File-based Output
Support for AS-02/AS-11 MXF formats through AMA means you can manage multiple versions of the same sequence easily, as the AS-02/AS-11 container packs everything into a single bundle without duplicating assets, saving storage space. Seamlessly move content between Avid and other systems that support the formats. Use JPEG 2000, DNxHD, IMX, AVC-Intra, and uncompressed media in your versioning/archive workflow. And because the formats are open industry standards, you'll eliminate time wasted on repackaging content.
Manufactured by: Avid
UPC No: 0724643119379
Mfg Part No: 9935-65686-06
Box Size: ( Length:0, Width:0, Depth:0)
Shipping Weight: 1.0000 pound(s)
Click here for full warranty and support information
Avid logos are registered trademarks of Avid. All others trademarks and copyrights mentioned herein are the property of their respective owners.